Shimosuwa is located right in the heart of Nagano. It flourished centuries ago as a post town (a type of rest stop in the Edo era) situated at the intersection of the Nakasendo and Koshu Kaido Highways (famous travel routes). As the town modernized, it became famous for its manufacturing and precision machinery industries.
With its many shrines and temples, Lake Suwa with its plentiful activities, historical buildings, and the historical Nakasendo Highway Shimosuwa Post Town, Shimosuwa is full of great spots for sightseers to enjoy. Lively festivals like the Onbashira Festival which is held once every 6 years and the Lake Suwa Fireworks Festival held every summer draw visitors from all over Japan.
This page is geared toward people coming to Shimosuwa for the first time or for those who are still planning their trip. The spots listed here are must-see locations within the town, so be sure to visit this page again when you finally make your way to Shimosuwa.
Suwa Taisha Shimosha Akimiya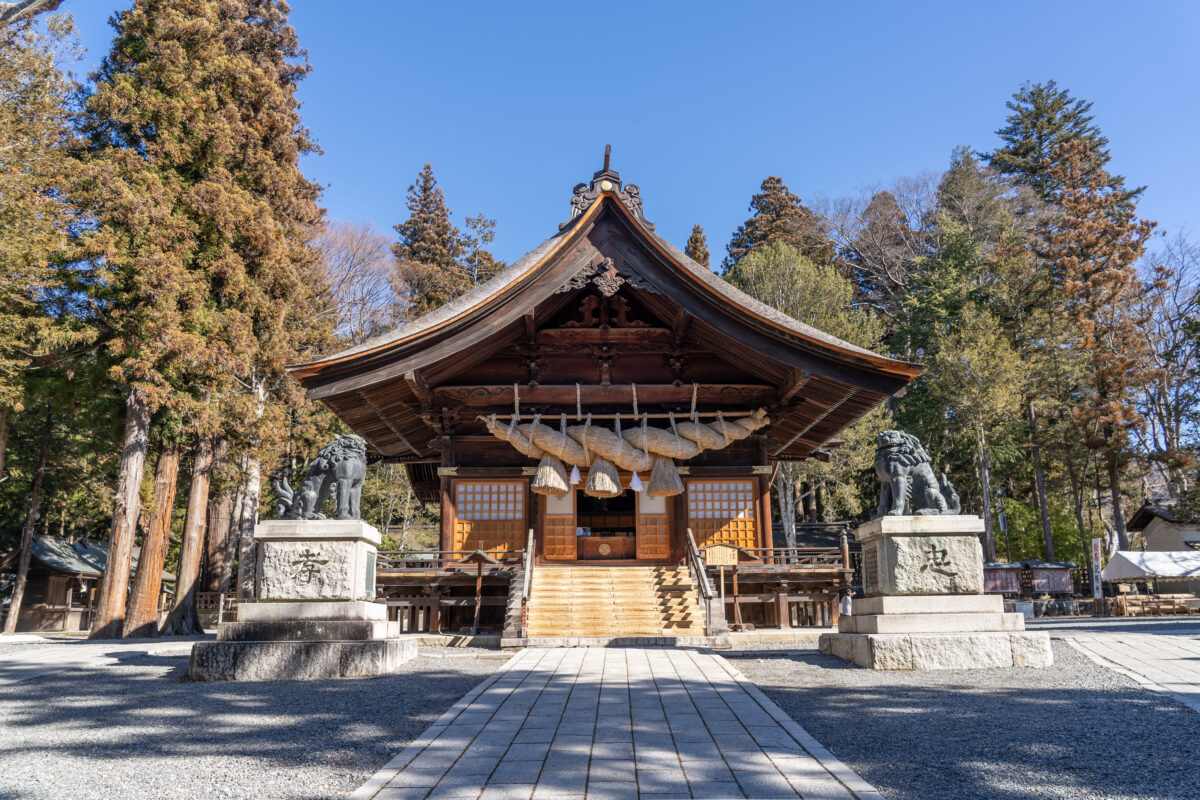 The Suwa Shrine System is composed of over 10,000 shrines throughout all of Japan. Suwa Taisha serves as the main four shrines of the entire system. Akimiya Shrine sits at the intersection of the Nakasendo and the Koshu Kaido Highways, and many travelers and high-ranking officials would visit and pay their respects to these shrines long ago.
Some of Akimiya's highlights are its kaguraden, a structure that is gabled on three sides and ornamented with a massive shimenawa (a holy rope of sorts), the nearly 800-year-old Neiri no Sugi cedar tree, Japan's largest  bronze guardian dog statue komainu, and more! Many of these features have been designated as important cultural properties.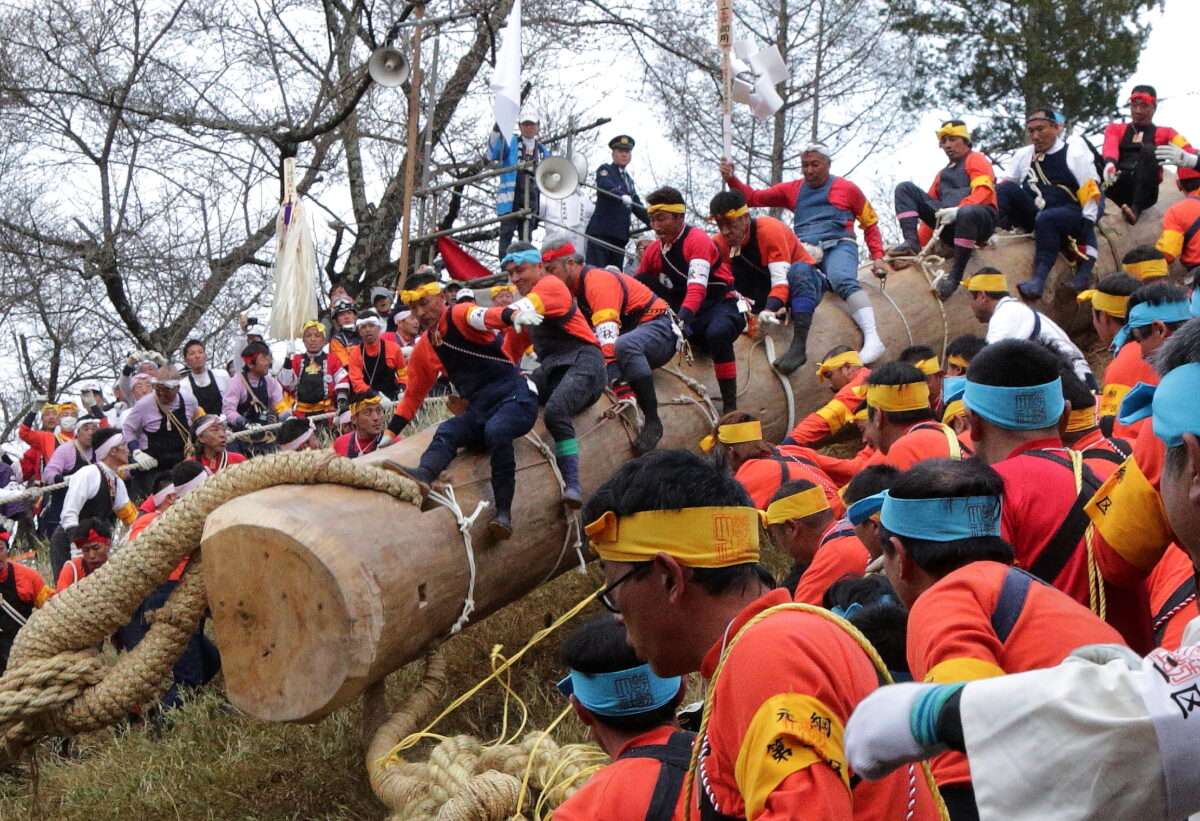 It is hard to mention Suwa Taisha without thinking of the Onbashira Festival. The next iteration of the festival will be held in 2022, but there are plenty of other large-scale events in the area between now and then.
Every year on August 1, the Suwa Taisha Ofune Matsuri is held. This is the largest festival in Shimosha outside of Onbashira, and is held to transport the god from Harumiya Shrine to Akimiya Shrine. A number of other smaller events are also held to coincide with Ofune Matsuri.
On the other side of the lake, the Lake Suwa Fireworks Festival is held every year in August, making it a great month of the year to visit.
Suwa Taisha Shimosha Harumiya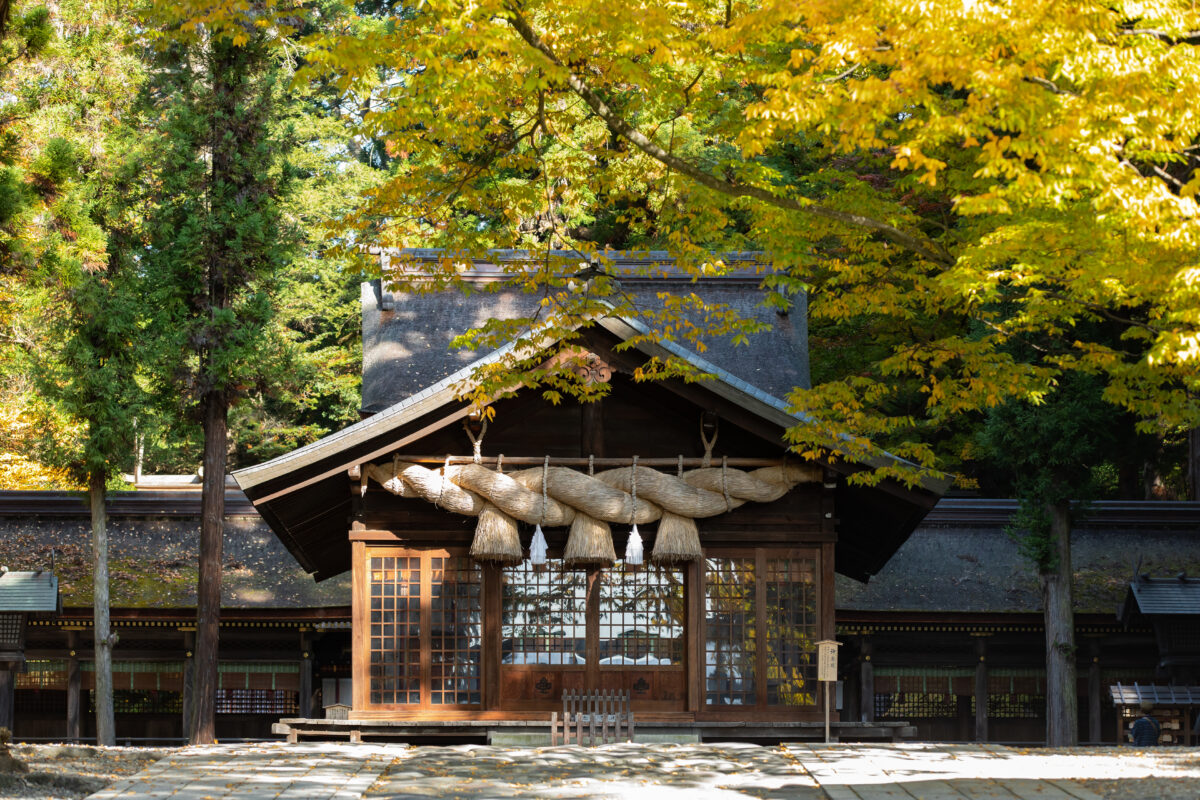 Harumiya Shrine is located a 20-minute walk away from Akimiya Shrine. The kaguraden and haiden (halls of worship), as well as the left and right katahaidens and the gohoden (a treasure hall) are laid out in the same manner as Akimiya's. This is because the local shrine architects  Osumi school who made Harumiya engaged in a competition of architectural skill with the Tatekawa school who studied Edo (modern day Tokyo) shrine architects and made Akimiya. Both groups of architects used the same design and blueprints to erect these gorgeous shrines. Be sure to enjoy and note the nuances between Harumiya and Akimiya's construction.
Visitors who arrive at Harumiya Shrine should also be sure to head over to Geba-bashi Bridge, a wooden arch bridge. This bridge is somewhat oddly located in the middle of the main road leading up to Harumiya Shrine and is said to have been built in the Muromachi Period (1336-1573). It is also considered the oldest building in all of Suwa Taisha. People aren't typically allowed to cross this bridge, but such restrictions are lifted during a festival for carrying the gods between Harumiya and Akimiya.
Ukishima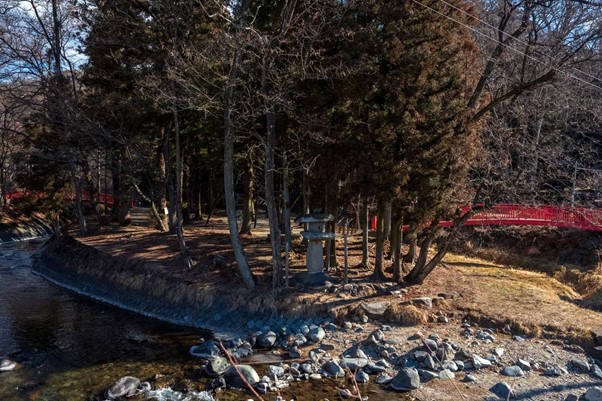 Ukishima shrine is a shrine on Ukishima Island which can be found by following a small path that leads out of Harumiya Shrine. A Shinto goddess named Haraedo no Okami is enshrined here, and the two red bridges leading to the island give off a beautiful impression. Even when the water in the river is high, the island has never been submerged. This is one of the seven mysteries of Suwa Taisha Shimosha.
Although it is often overlooked when people journey from Harumiya Shrine to Manji no Sekibutsu (the stone buddah), Ukishima Island has shrines and a small area where you can dip your feet into the river. Be sure to visit this special island when you're in the area.
Manji no Sekibutsu (the Stone Buddha)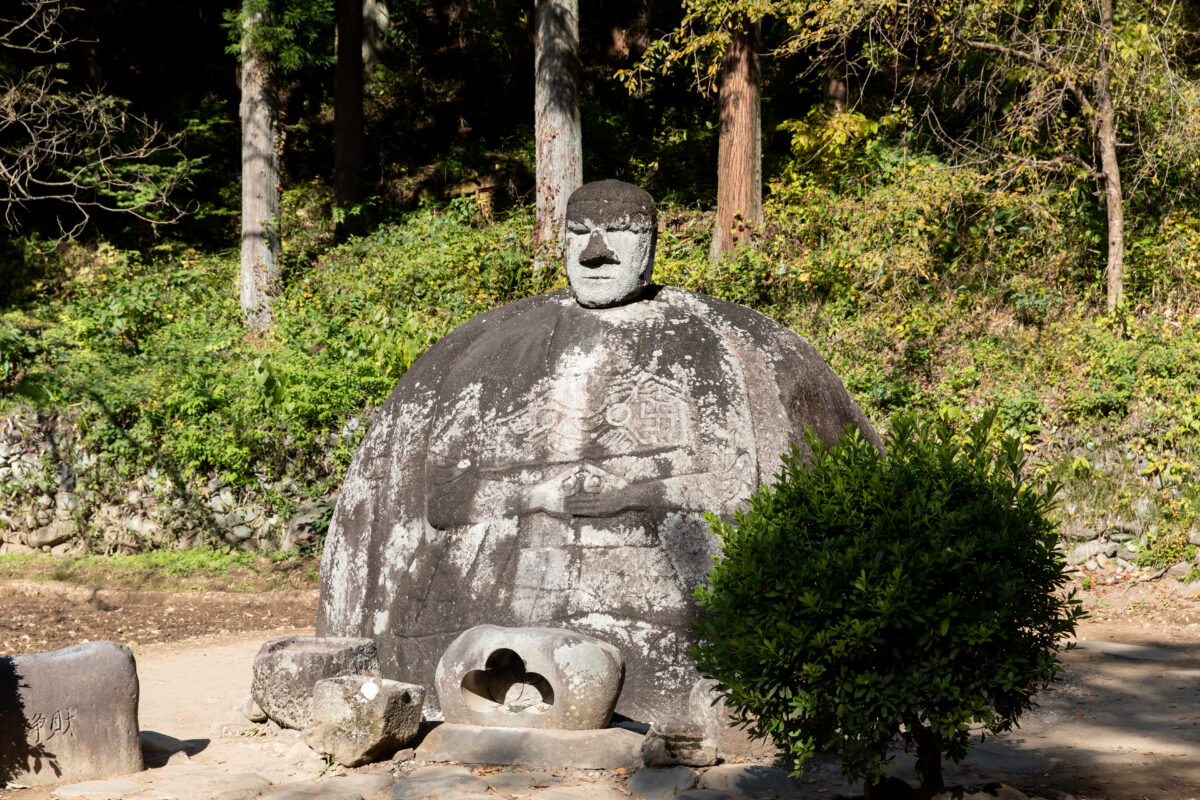 Manji no Sekibutsu's rise to nationwide fame is owed to the painter Taro Okamoto and the writer Jiro Nitta, both of whom visited this statue while staying in Shimosuwa for the 1974 Onbashira Festival. Since parking isn't available nearby, we recommend walking from Harumiya Shrine to Ukishima Island and then onto Manji no Sekibutsu.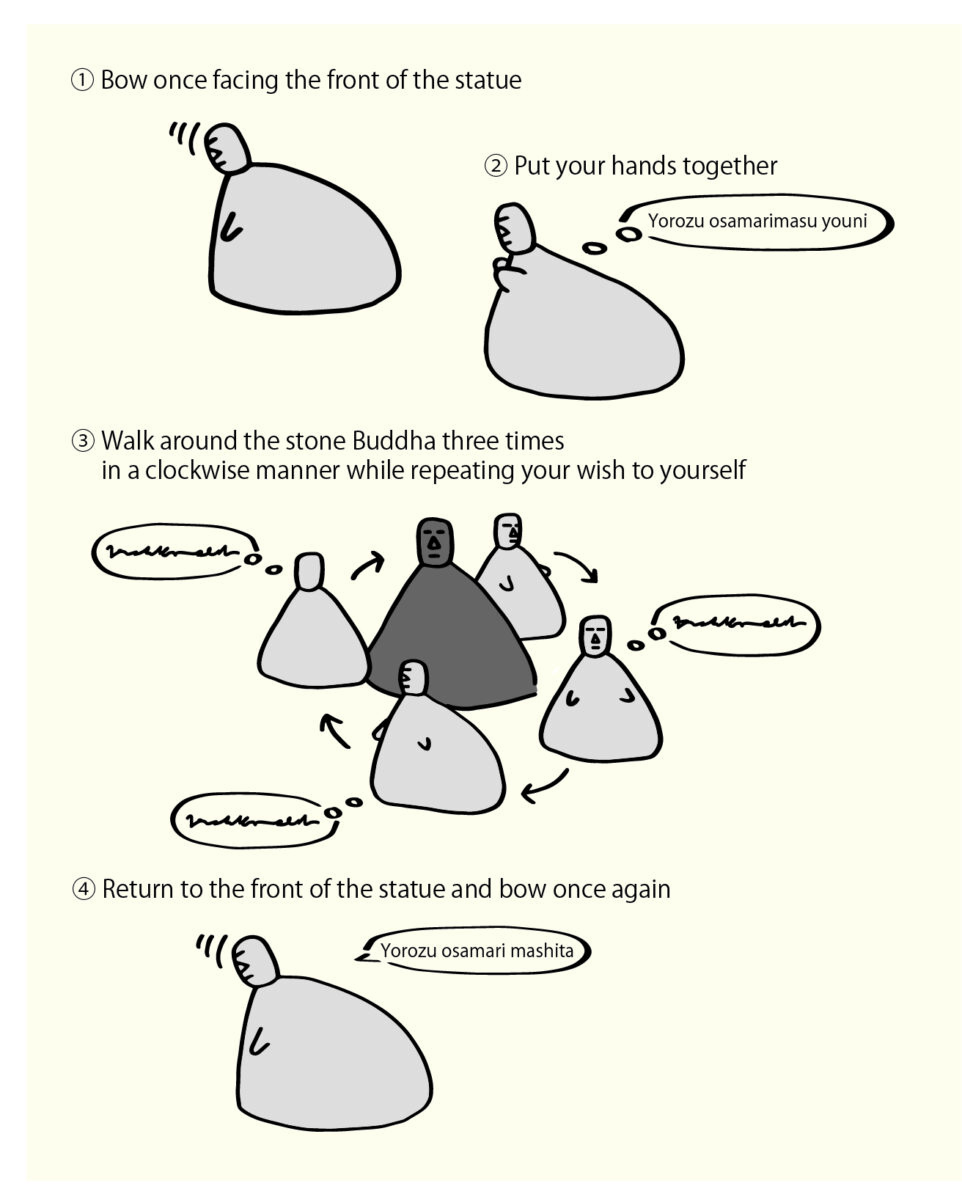 (C) Shimosuwa Tourism Promotion Association
Here we'll explain the proper way to visit and pray at Manji no Sekibutsu.
1: From the front of the statue, bow once before putting your hands together
2: Walk around the statue three times in a clockwise manner while repeating whatever you wish for to yourself
3: Return to the front of the statue and bow once again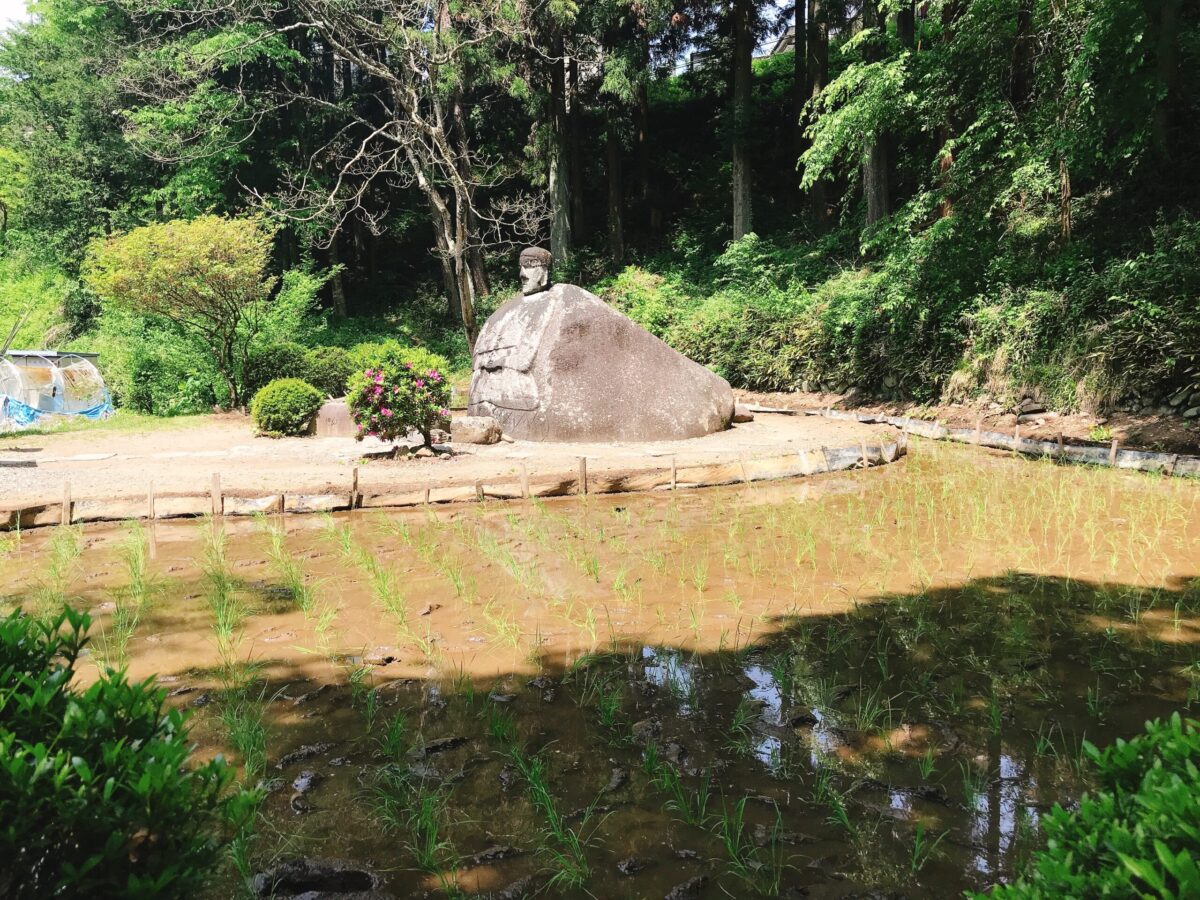 By chanting your wishes as you make your way around the stone statue, you will be able to see it in its entirety. An engraving that marks the dedication of the sculpture as well as the year of its creation can be found on the side of its body. This inscription, which was dated to the third year of Manji (1660 AD), is the origin of the statue's name. Take a moment for yourself to commune with this ancient relic.
Read more about Manji no Sekibutsu here.
Lake Suwa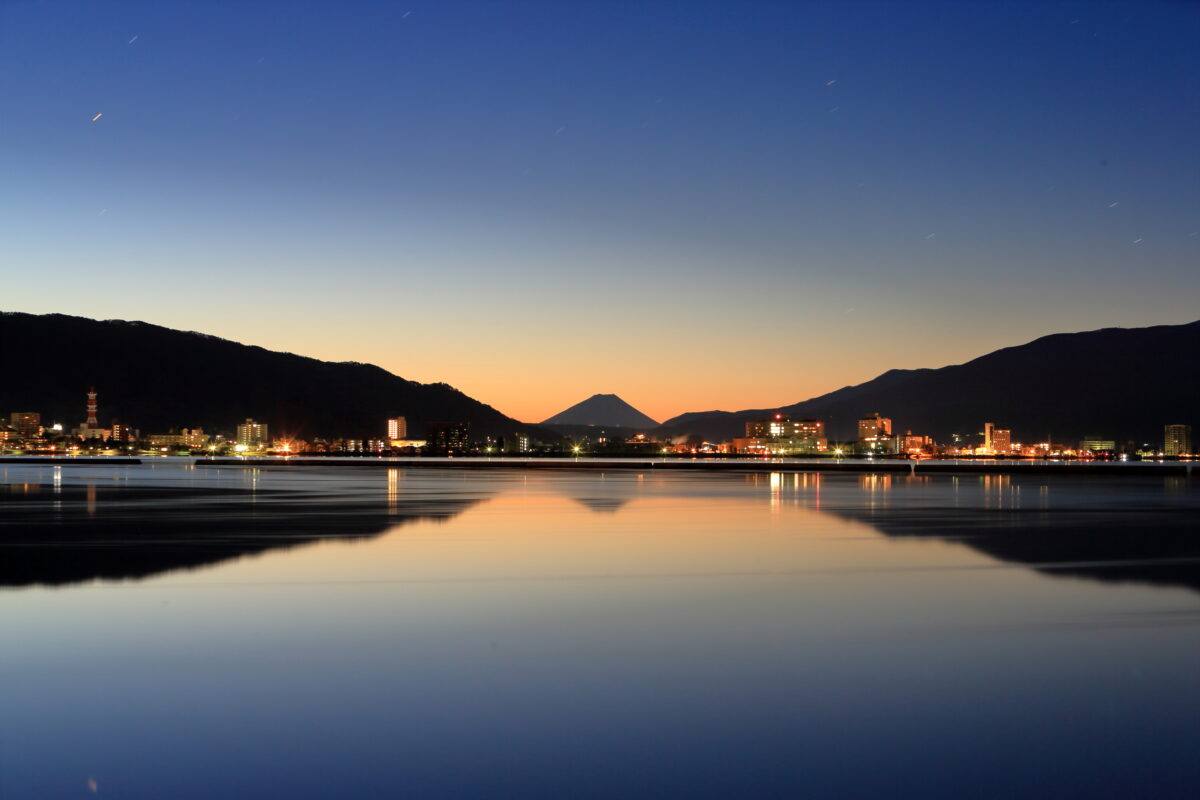 Lake Suwa is the largest lake in Nagano. It spans 16 km in circumference and sits at an altitude of 759 meters above sea level. It is encircled by a path for jogging and biking which lets visitors experience the lake's charm at a slower pace than just driving around it.
Mt. Fuji, which sits nearly 91 km away from Shimosuwa, can be seen from the lakeside on clear days. This view is so famous it was recreated long ago in Shinshu Suwako which appears in Hokusai Katsushika's (one of Japan's most famous woodblock artists) woodblock print collection Fugaku Sanjurokkei (36 Views of Mt. Fuji.) Lake Suwa is a tectonic lake, and such views of Mt. Fuji are only possible due to the uplift of the Chubusangaku Mountain Range and the fault movements of the Fossa Magna (Itoigawa-Shizuoka Tectonic Line) that caused tearing in the earth's crust to create space for the view.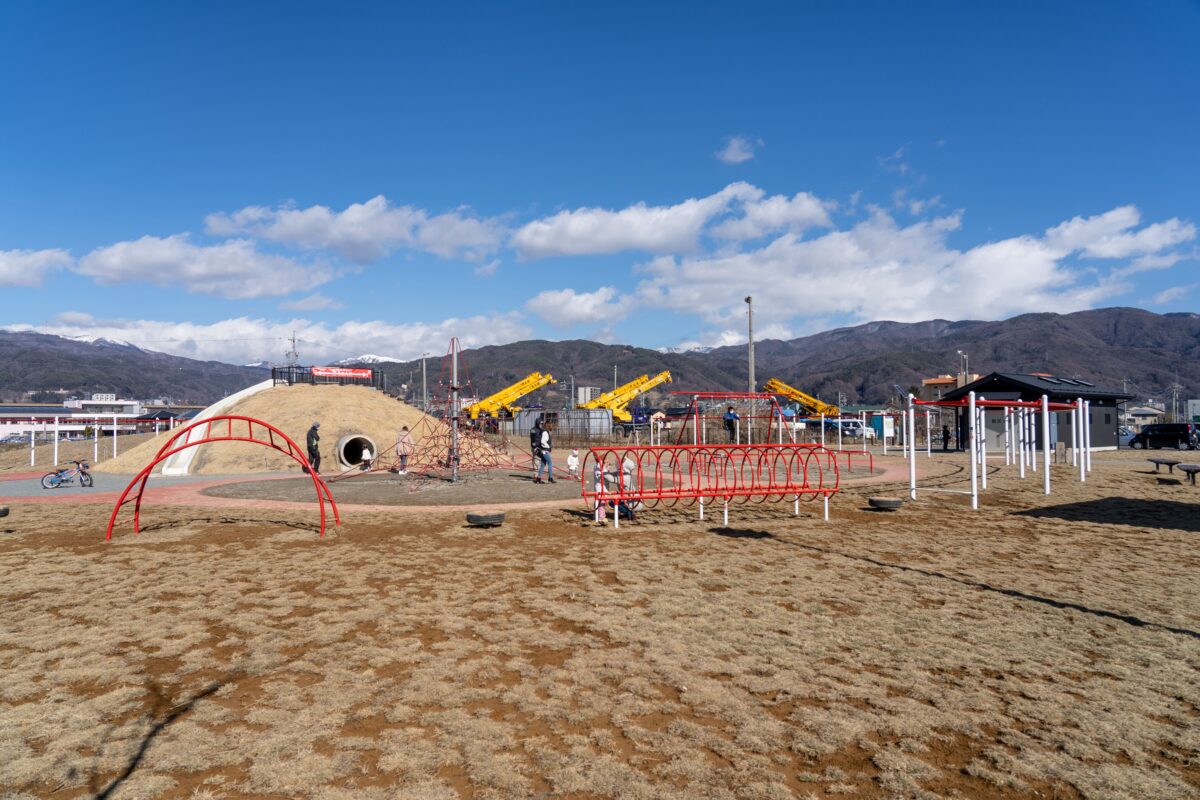 Nagano's only rowing area can be found on the shores of Lake Suwa. Lake Suwa is also increasingly becoming a sightseeing hotspot, and recent years have seen the addition of footbaths and Akasunasaki Park, which was partially designed by the architect Toyoo Ito who spent part of his childhood in the town.
Shintsuru Honten (main store)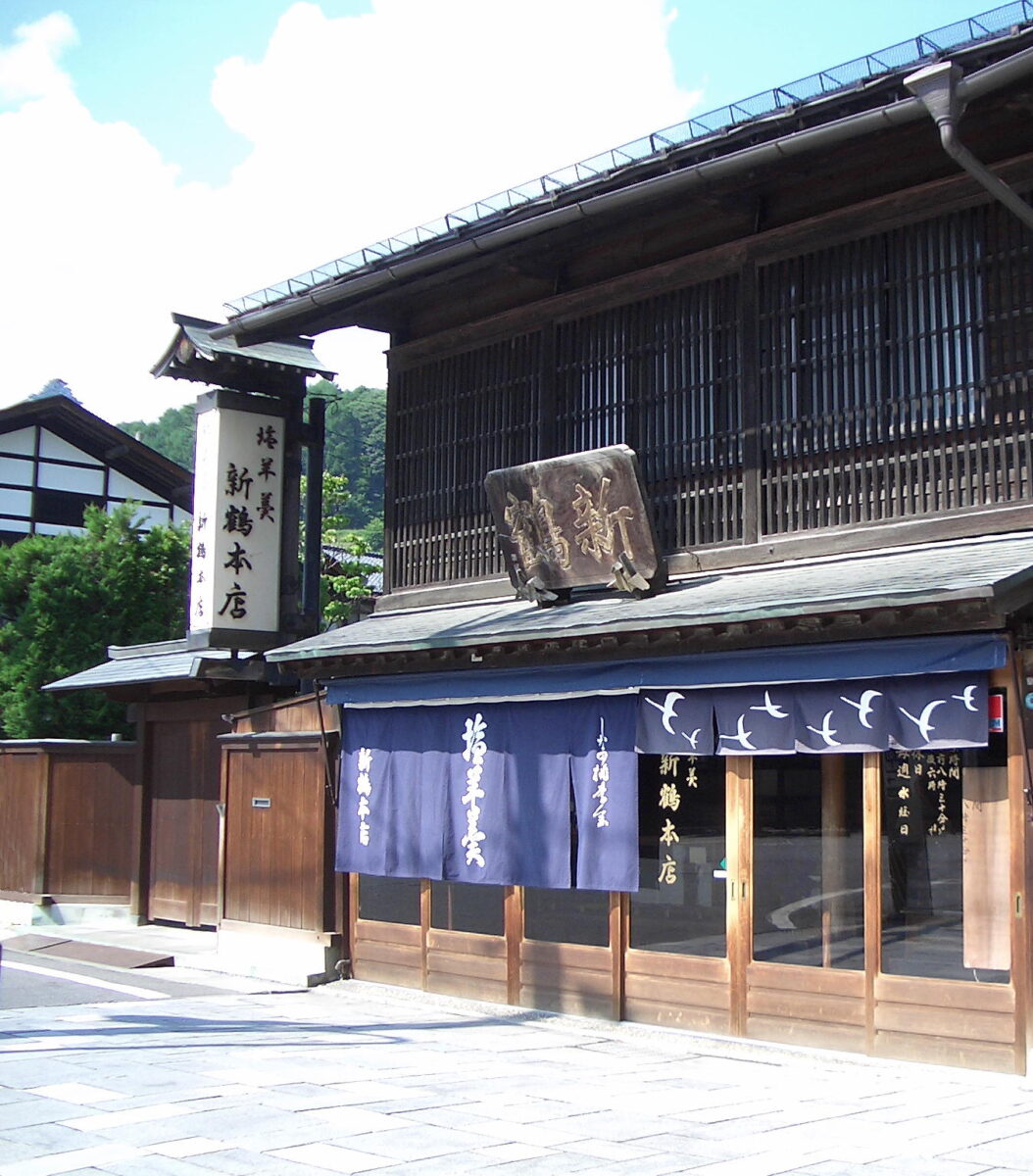 This Japanese confectionery located next to Suwa Taisha Akimiya Shrine has been in business for nearly 150 years. This quaint building once served as the residence of Tenryu Dojin, a painter from the end of the Edo Period (1603-1867). Shintsuru's ancestors took over the shop from Dojin and began making confections at the beginning of the Meiji Period (1867-1912).
Nagano is a landlocked prefecture with no ocean in sight, and salt was once a valuable commodity. Since Shintsuru's first owner came up with the idea of adding salt to yokan (azuki bean jelly) , the salt has been used with great care to make ingredients taste better.
The smooth, delicate yokan here is made with a traditional recipe. The moment you put this treat in your mouth, you will be refreshed by the softness of the azuki beans and the quickly disappearing sweetness. Another item guests must try when visiting the Shintsuru main branch is mochi manju. Often called 'mochi man', they are a type of daifuku mochi (a kind of rice cake) . Every morning the store owner starts by pounding steamed rice into rice cake to make this mochi and has it wrapped and on display at the storefront around 10 a.m. The shop only makes so many and often sell out by the afternoon. Additionally, mochi man here have a short shelf life, so you can only purchase them directly from the store.
Guests can make reservations by phone for the sweets sold here, so be sure to do so in advance if you want to try it. These sweets are definitely recommended both to eat and to take home as souvenirs. You will be able to feel the local ancestors' love for their home district in each bite.
Conclusion:
Instead of driving through the area, walking allows guests to truly feel and experience the history and culture of Shimosuwa. If you come to Shimosuwa, make sure to visit all of the spots listed here while spending the day walking around town.