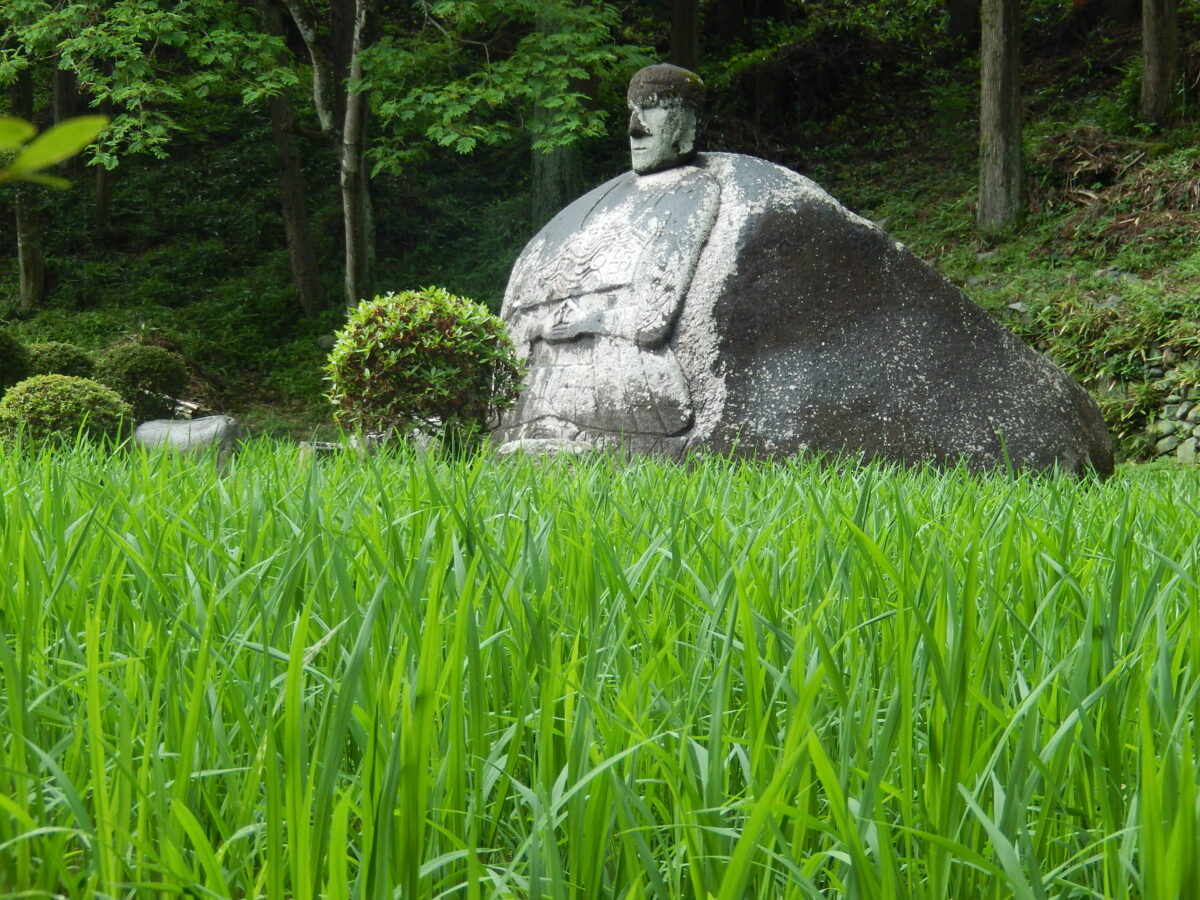 This stone Buddha is located just a 5-minute walk from the grounds of Harumiya Shrine after crossing the beautifully red Ukishima Bridge. Manji no Sekibutsu sits surrounded by rippling fields of rice. This unbalanced head sitting atop a massive, natural boulder is almost humorous in appearance. Additionally, the reverse-manji, thunder, moon, and sun symbols carved into its chest are mysterious. The world-renowned artist Taro Okamoto (1911-1996) visited Shimosuwa in 1974. He watched the statue and found himself so moved that his hands holding his camera were trembling. He remarked, "I have traveled the world, but I have never seen something so fascinating." He then introduced this stone Buddha in a magazine and it became famous throughout Japan.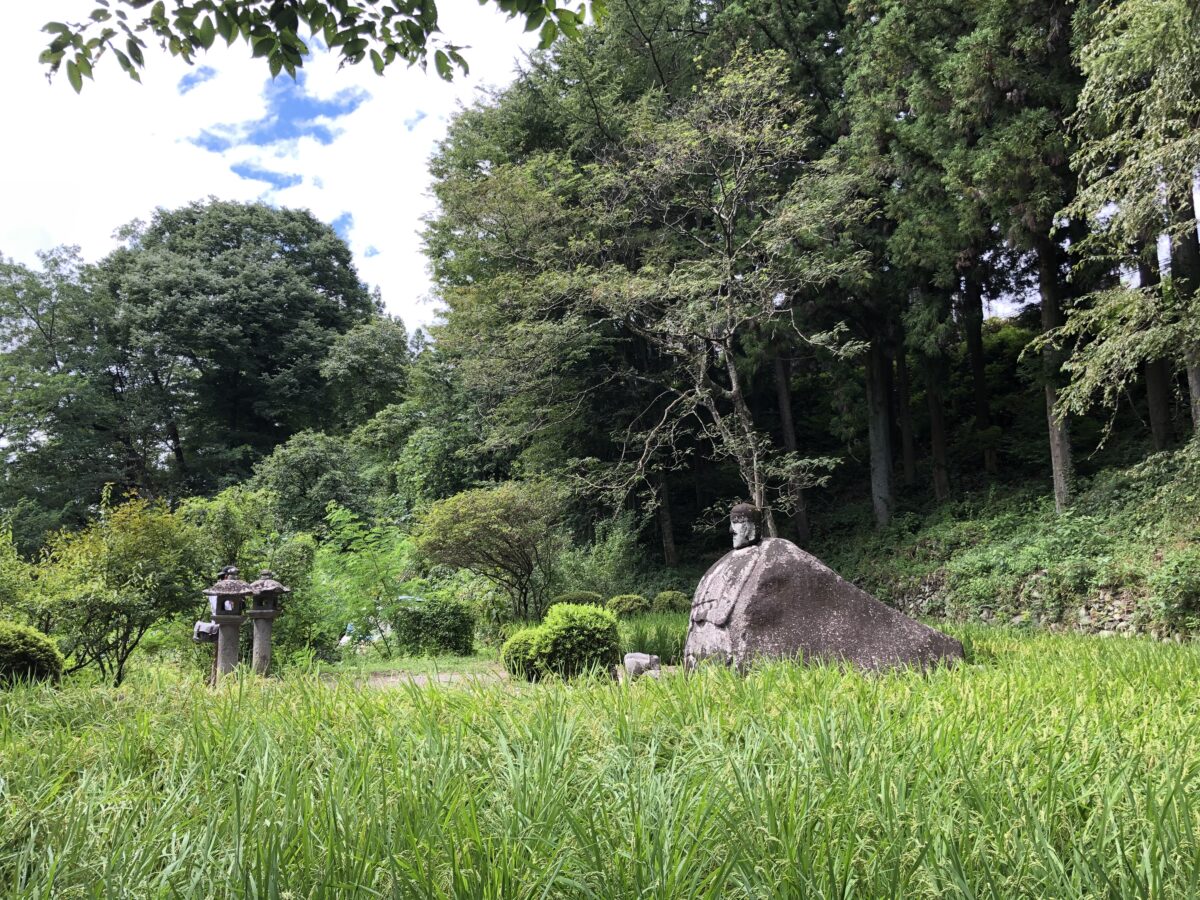 In 1657, Tadaharu, the third feudal lord of the Takashima Domain in Suwa, wanted to dedicate a large torii gate to Suwa Taisha Shimosha Harumiya. A mason decided a huge stone in the area would be used for its construction. However, when he struck the stone with his chisel, it is said that blood began to flow from the stone. Shocked and stricken with fear, the mason decided to give up on the project and instead carved Buddha Amida onto this stone and erected it while paying his respects to the spirit. As it is carved "the third year of Manji" (1660 AD) onto the statue, it is known as Manji no Sekibutsu (the Stone Buddha of Manji).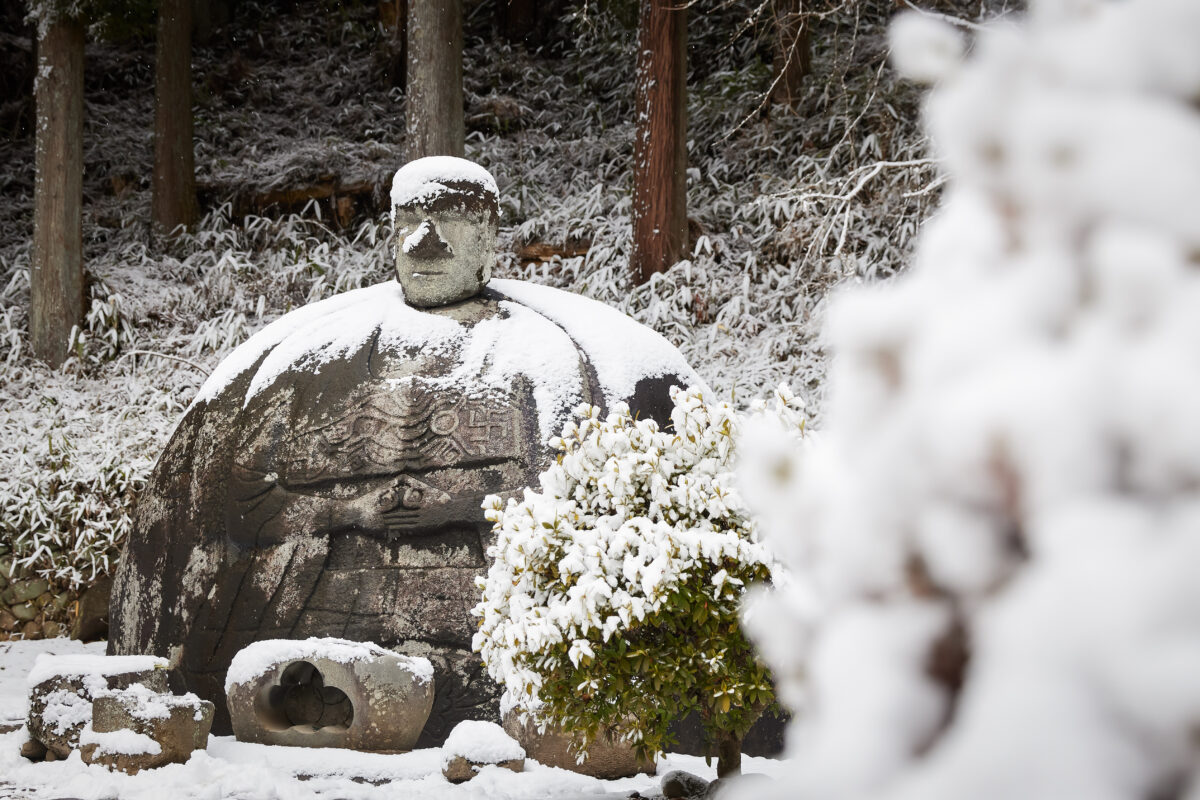 In recent years, Manji no Sekibutsu was shown on a television program and introduced as a "stone Buddha with a growing neck," which prompted many visitors to come to the area. Afterward, during an investigation for the restoration of the statue, it was learned that water accumulates on a pillar that was affixed during a prior restoration. This water then freezes and acts as a column of ice that appears to push the head up. (The head is currently fixed in place for safety reasons.)
Taro Okamoto's Remarks on Manji no Sekibutsu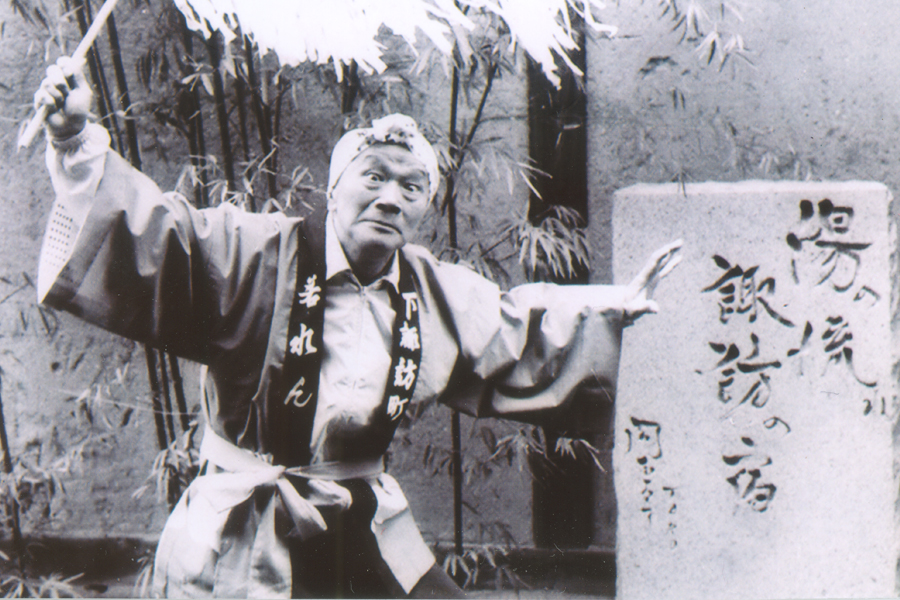 Photo courtesy: Minatoya
Manji no Sekibutsu is a sacred stone unlike anything else on earth. It is a stone that symbolizes eternal life.

I have traveled the world, but I have never seen something so fascinating.

Looking at Manji no Sekibutsu stirred my heart more than viewing the hidden Buddha at Nara.




What's on the inside matters more than what's on the outside.

The very stone is sacred.




Much more than the modern sacred objects created by brushes.

I came to Suwa and discovered the sacredness to be found in stone.
Details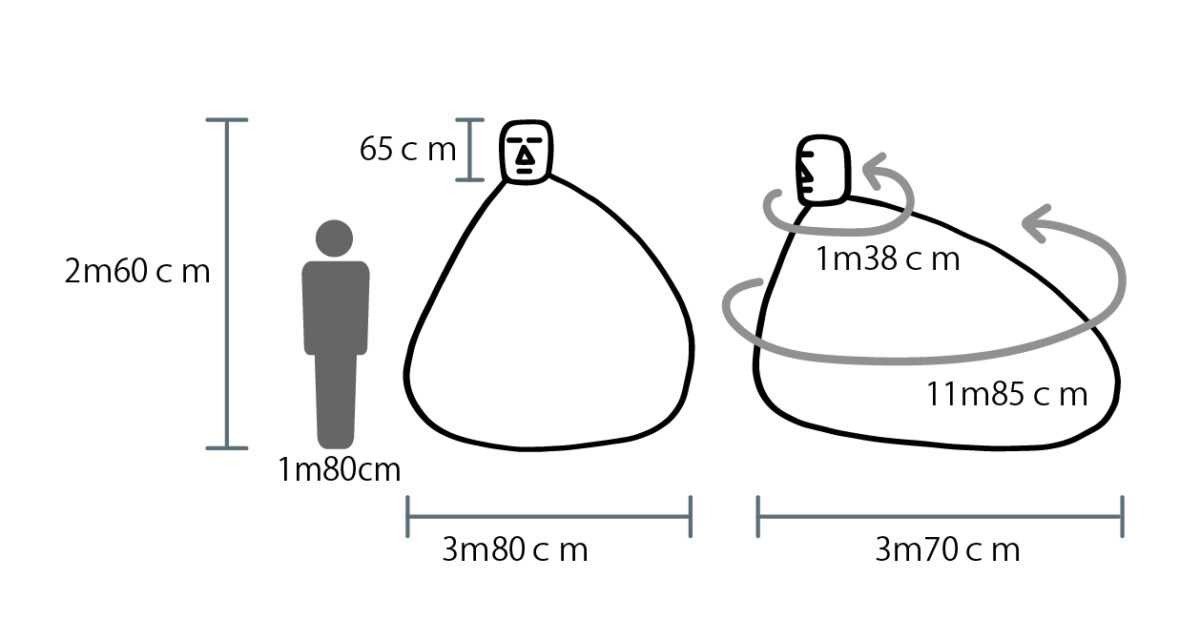 (C) Shimosuwa Tourism Promotion Association
Material: natural stone (andesite)
Height: 260 cm
Width: 380 cm
Depth: 370 cm
Body circumference: 1,185 cm
Head length: 65 cm
Head circumference: 138 cm
How to pray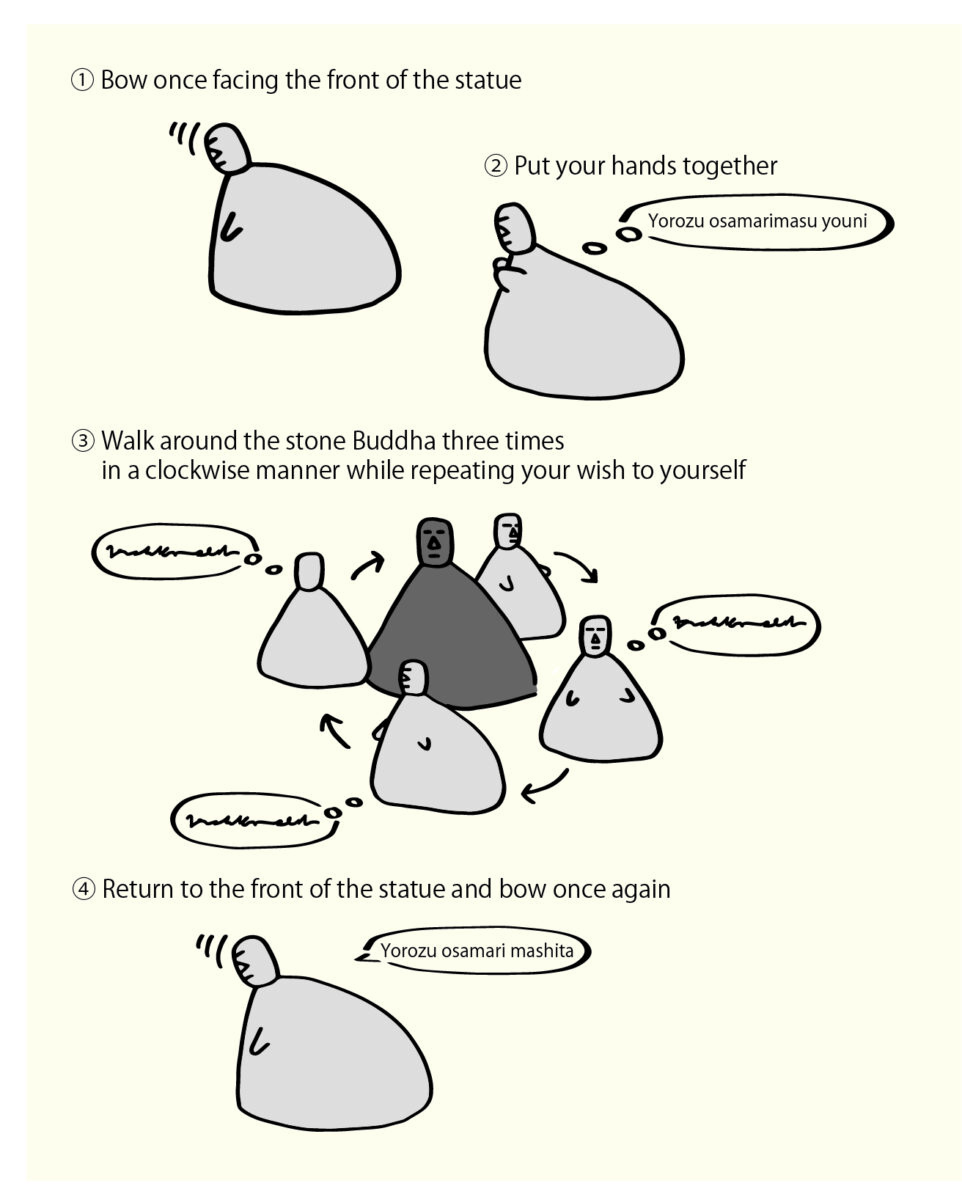 (C) Shimosuwa Tourism Promotion Association
1: From the front of the statue, bow once before putting your hands together
2: Walk around Manji no Sekibutsu three times in a clockwise manner while repeating whatever you wish for to yourself
3: Return to the front of the statue and bow once again
Information:
Access:
We recommend the route (about 5 minutes on foot) from Harumiya to Manji Stone Buddha, crossing the Togawa River via Ukishima.
Parking:
Please use the Suwa Taisha Shimosha Harumiya Parking Lot. The parking lot also accommodates large buses. * The number of parking spaces is limited.
Note:
Please be noted that the ground around Manji no Sekibutsu is not paved, so it may not be easy or comfortable to access when raining. It is possible for visitors in wheelchairs to access the statue.
Bathrooms:
Please use the public bathrooms next to the Harumiya Parking Lot.
Public bathrooms are also available at the Onbashira-kan Yoisa (3-minute walk from Manji no Sekibutsu).
Manji souvenirs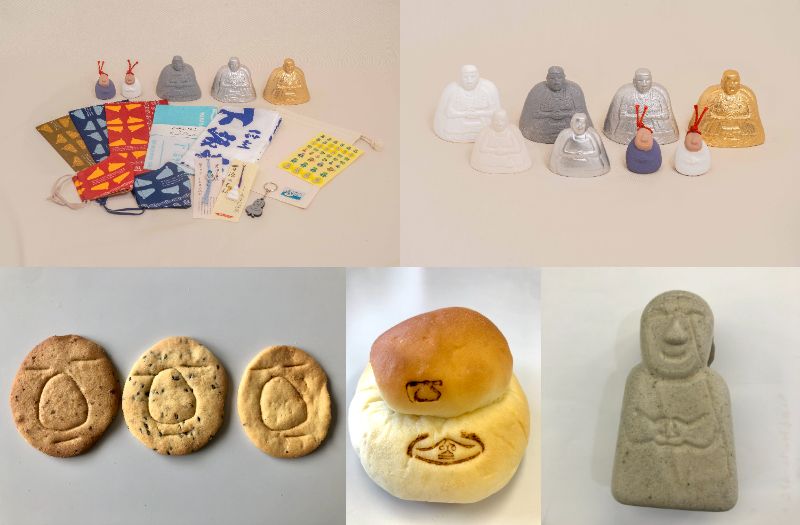 Straps, bandanas, masks, pouches available at OIDEYA, cookies from Frere, bread from a bakery Tarukawa, Suwa walnut caramels from Nouvel Bairindo, etc.