Sweets that will put a smile on anyone's face and local sake are just some of the souvenirs from Shimosuwa introduced here. Pick up some great souvenirs from Shimosuwa at these long-established popular stores!
Shintsuru
A long-running store founded in 1873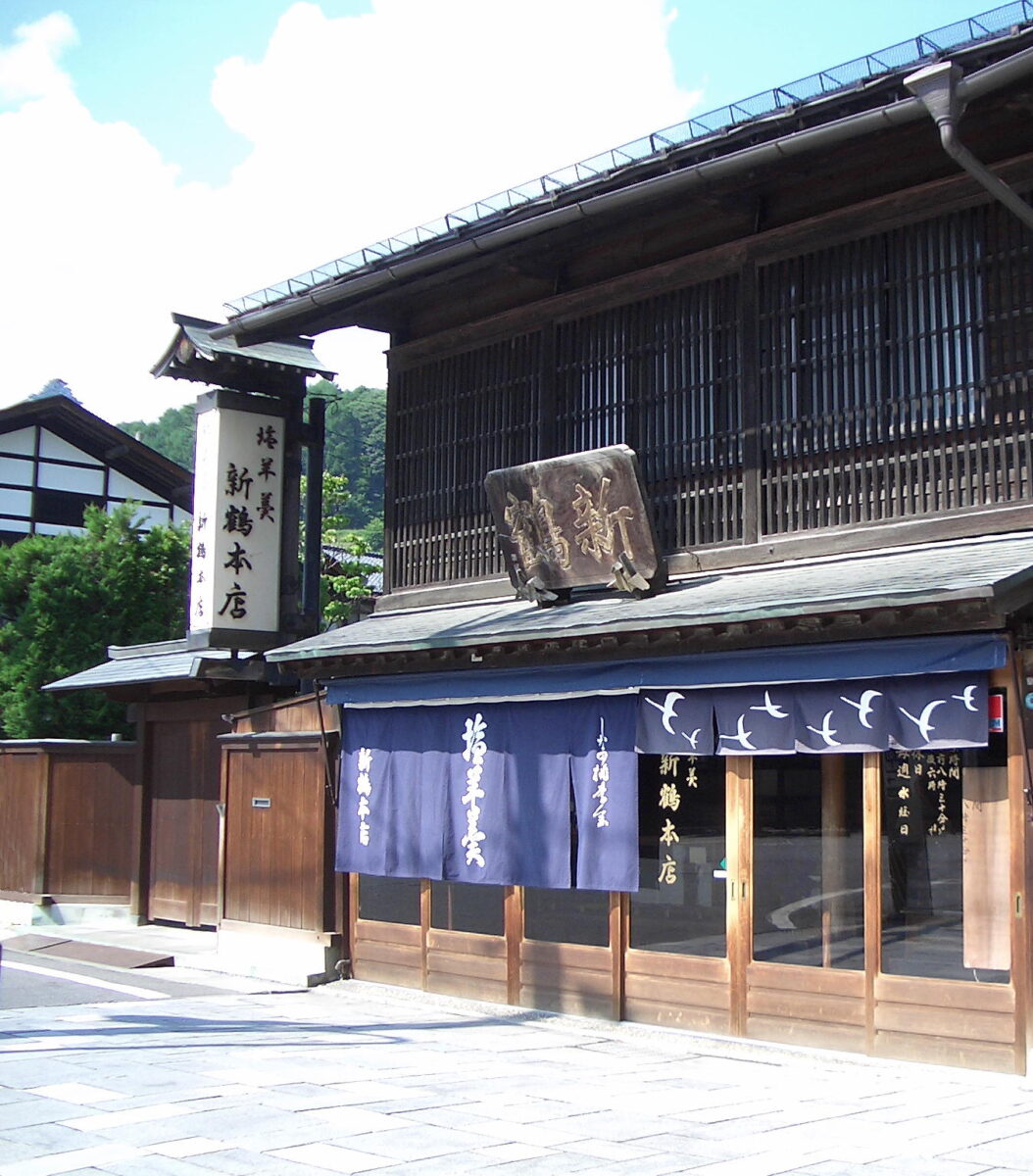 This Japanese confectionery located next to Suwa Taisha Akimiya has been in business for nearly 150 years. Depending on the season, guests can find a selection of between 10 and 12 types of Japanese sweets. Shioyokan (a salty, azuki-flavored, jelly-like sweet) is available year-round and comes highly recommended.
Nagano is a landlocked prefecture with no ocean in sight, and salt was once a valuable commodity. Since Shintsuru's first owner came up with the idea of adding salt to yokan (azuki bean jelly) , the salt has been used with great care to make ingredients taste better.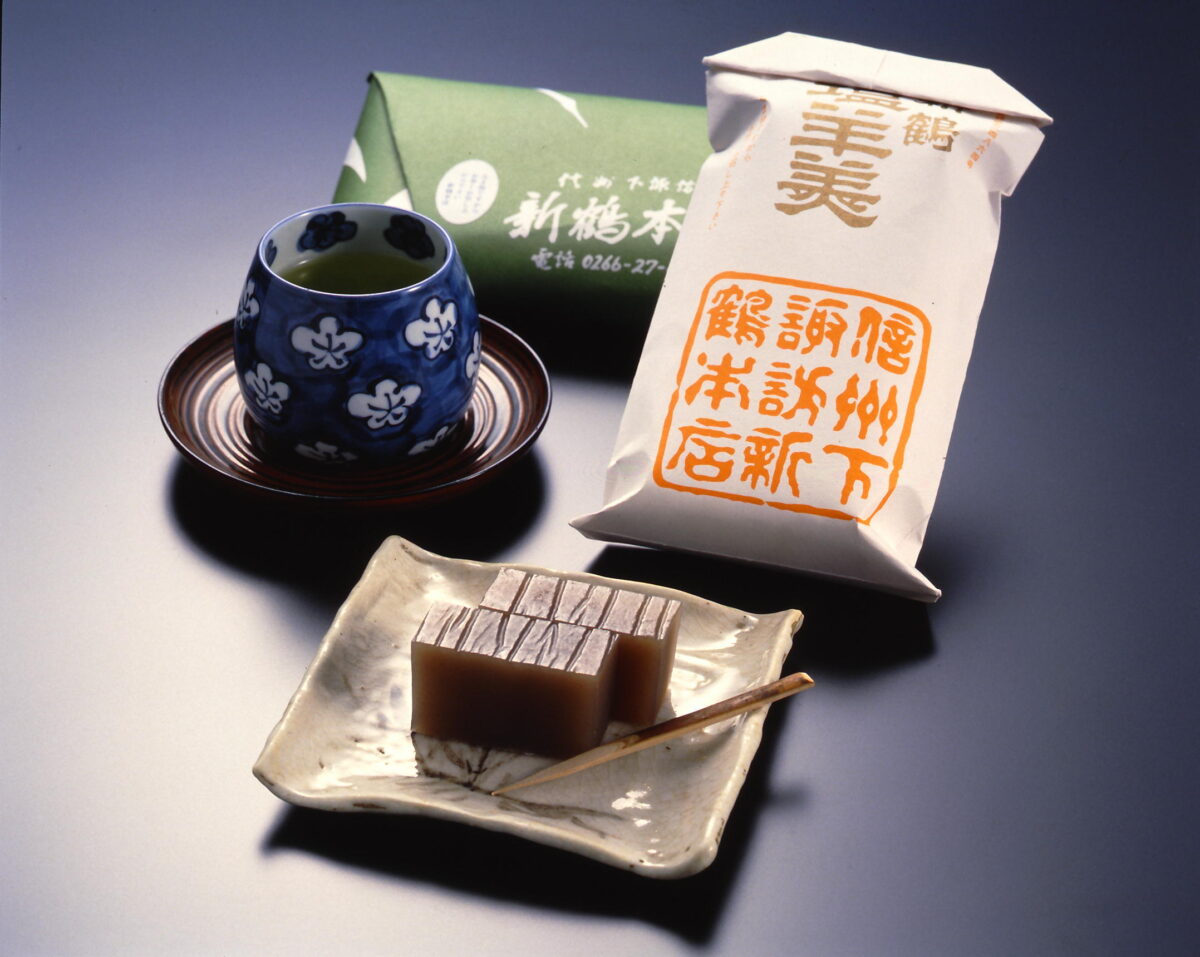 Simple ingredients make up this wonderful treat: sugar, salt, kakukanten (agar) from Chino (a nearby city), and azuki beans from Tokachi, Hokkaido. The kakukanten is all-natural, and the azuki beans are carefully selected one by one. First, the skin of each bean is peeled before the lye is carefully removed. The method used for crafting this tasty dish hasn't changed a bit using oak firewood in a stone fireplace.
Once finished, yokan has an extremely smooth and fine texture. The moment you put this treat in your mouth, you will be refreshed by the softness of the azuki beans and subtle sweetness.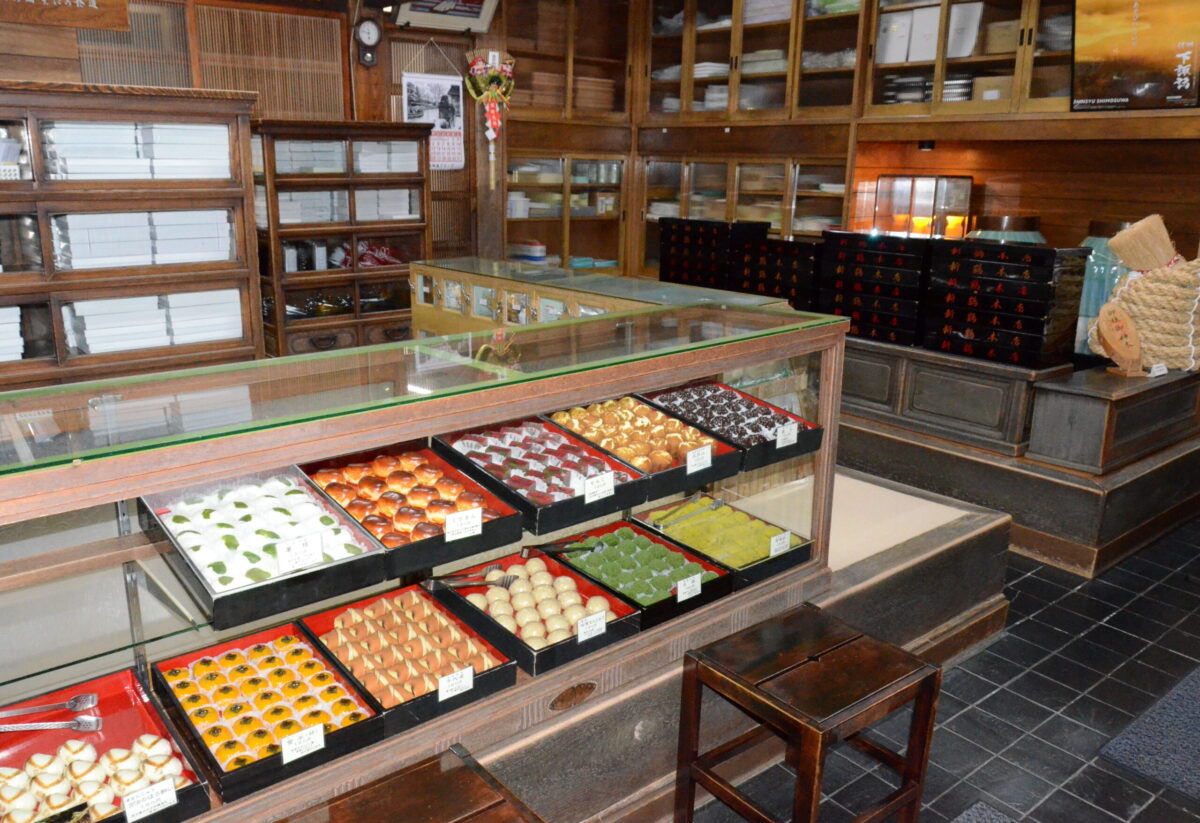 Another item guests must try when visiting the Shintsuru main branch is mochi-manju. Often called "mochiman", they are a type of daifuku (a kind of rice cake).
The bean paste used in mochiman is chewy, which makes for a satisfying treat when combined with the soft and elastic mochi. Its elegant appearance only adds to the experience, and the more you chew it, the more you can taste the flavors and ingredients. They don't last long though! Expiration dates for this treat tend to be quite short so make sure to eat them fast!
Opening Hours: 9:00-17:3
Holiday: Wednesday
Visit official website of Shintsuru Main Store
Frere
Western Confectionery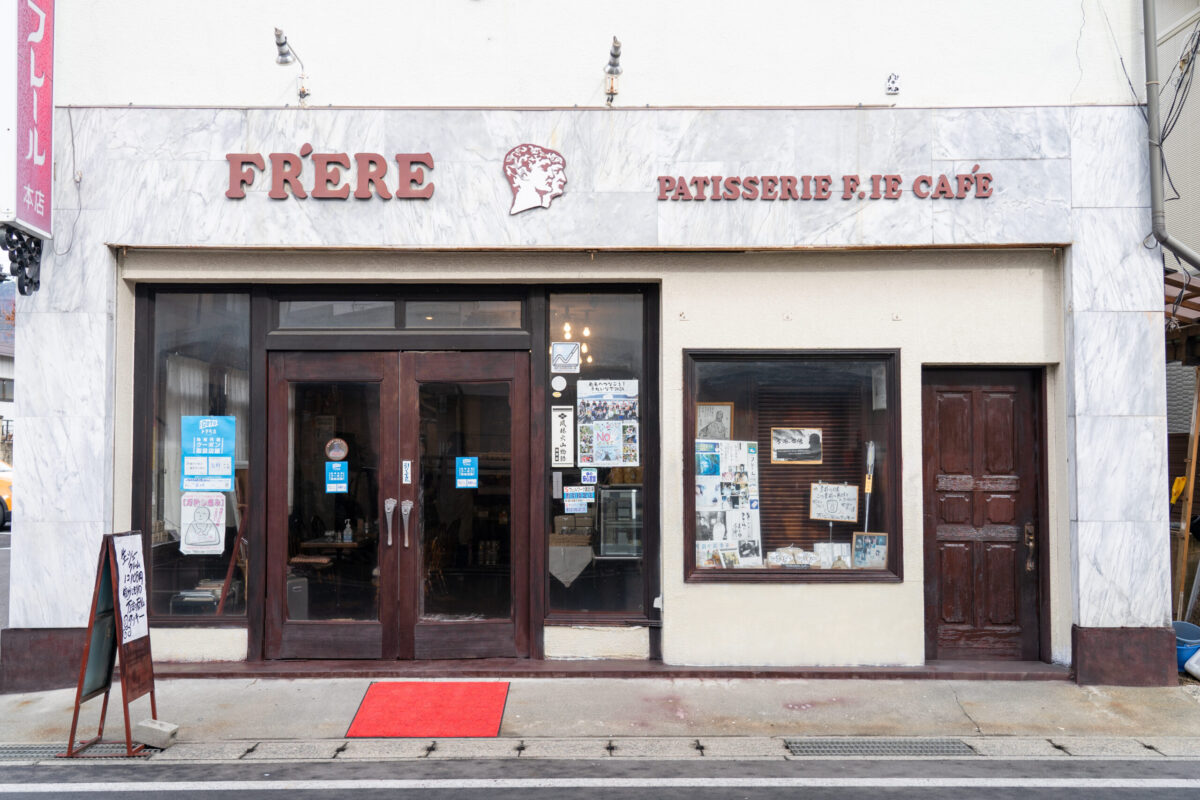 Opening the wooden door to this majestic building, you'll find classic pastries such as strawberry shortcake, yellow mont blanc, and chocolate cake, lining the rows of the display case. Cream puffs are often on sale at the incredible price of just JPY 108 each. The store is so charming that it was once even used as part of a movie set!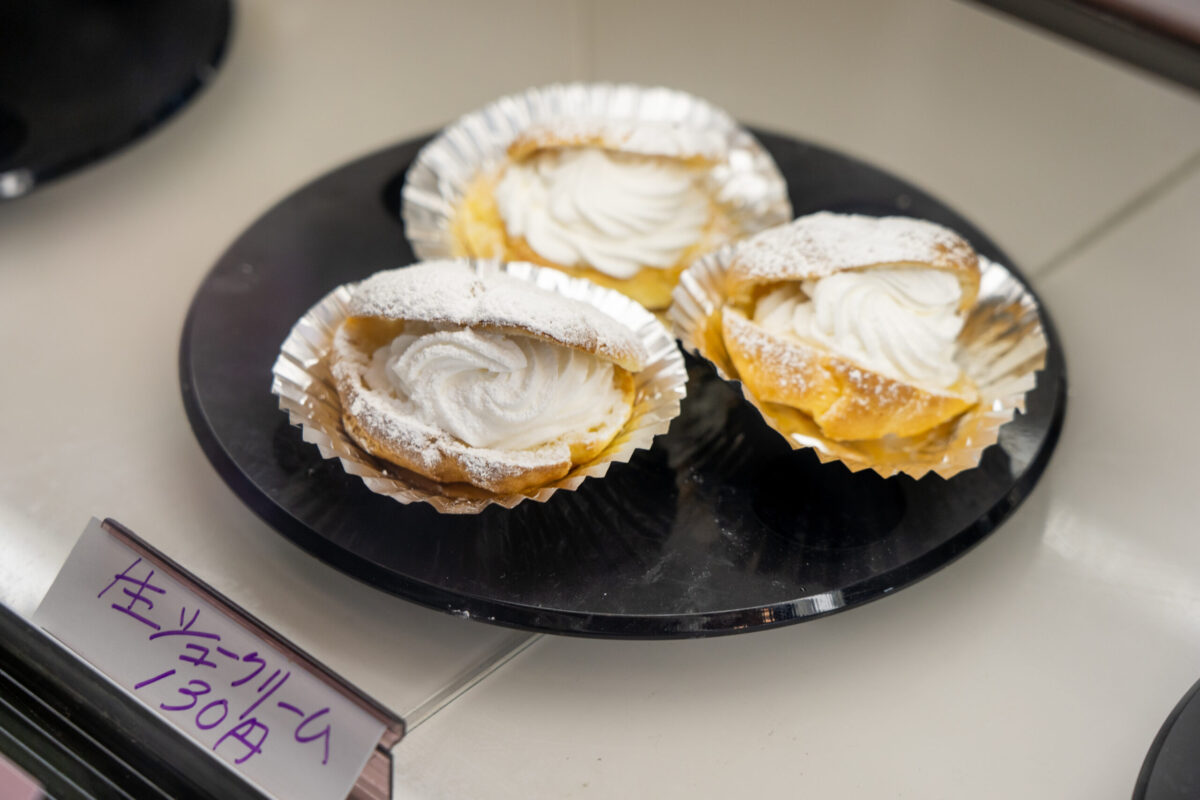 A retro look with soft powdered sugar. The cream isn't too heavy and matches the delicate flavor well.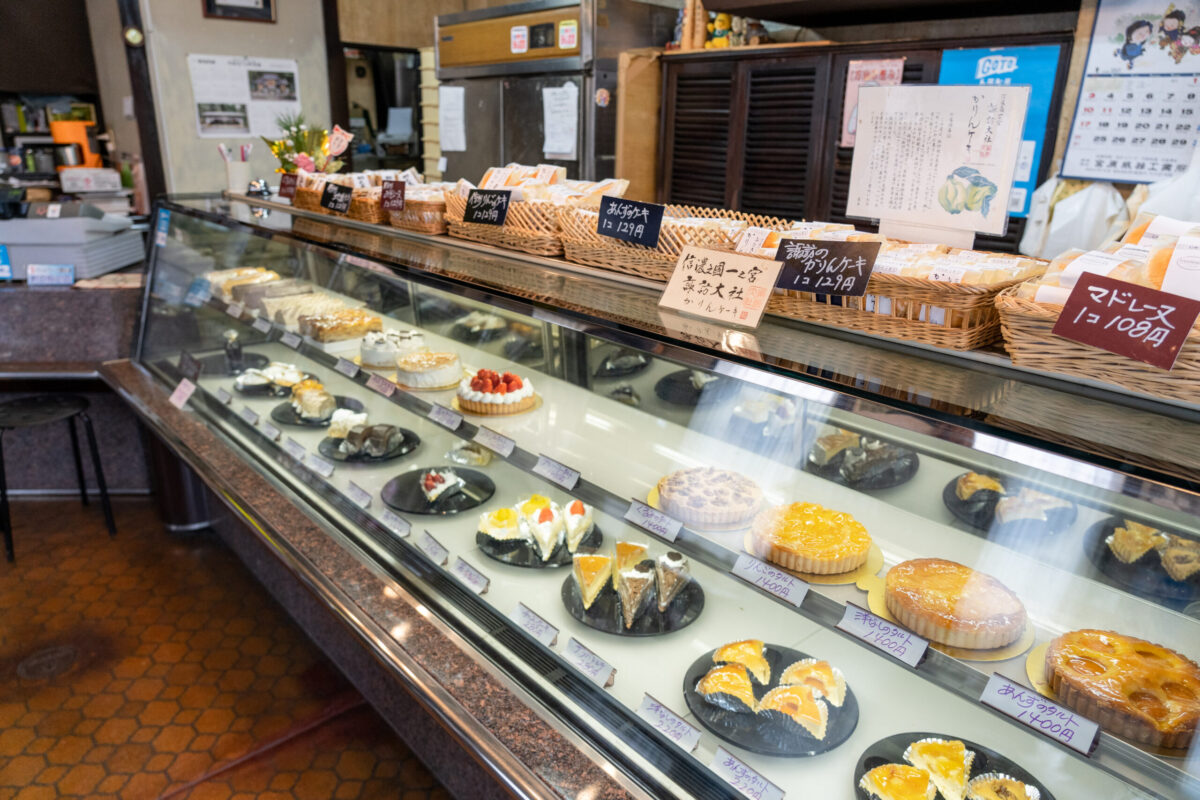 Frere also has a space for customers who wish to eat-in, meaning you can enjoy your sweet snacks with a coffee and eat right in the store.

The store has been loved by celebrities like the world-famous artist Taro Okamoto. The friendly owner is more than happy to share rare episodes with such persons by showing precious photos and books.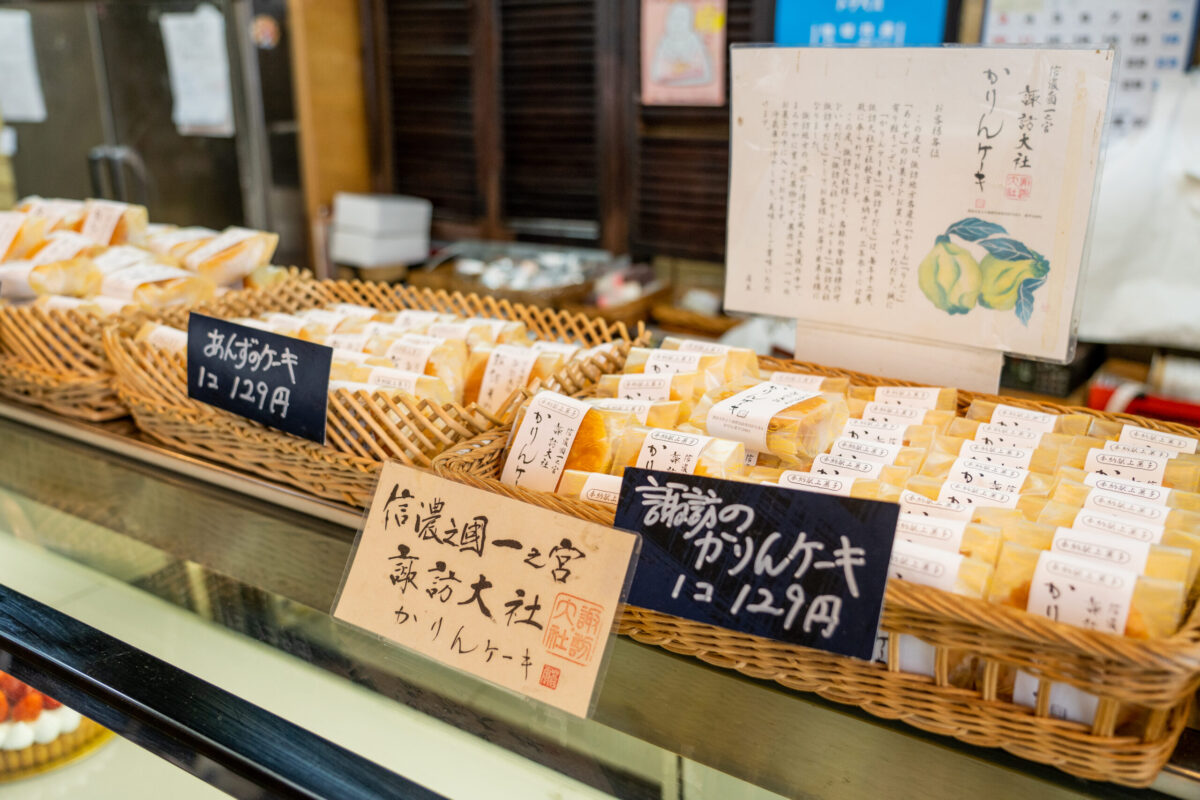 These baked goods make a good souvenir or as a treat for yourself!
Many of the menu items feature local ingredients. Quince, Chinese quince, apples, apricots, and other delicious fruits are featured in the tarts and baked goods here. There are even cakes that use miso and local sake in their recipes. This pastry shop has been operating in its current location for nearly 50 years.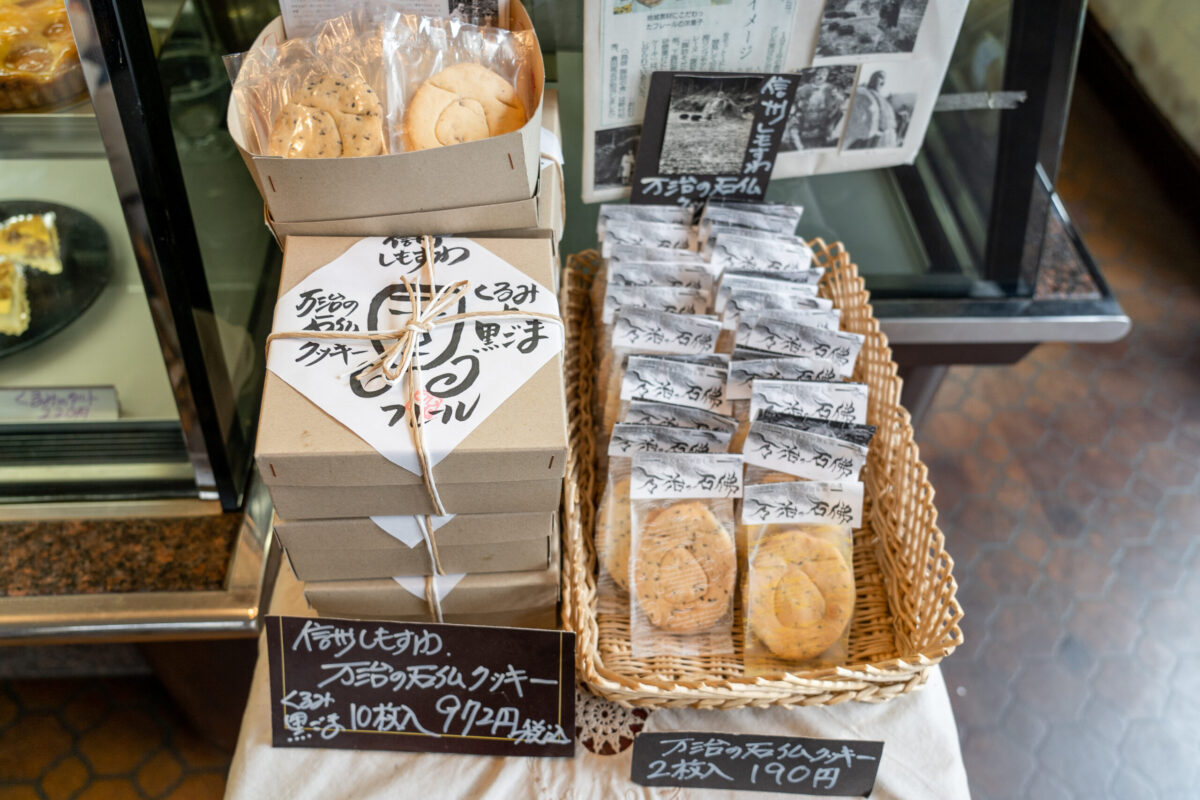 We highly recommend the Manji no Sekibutsu cookie, which is based on the very same statue in Shimosuwa. It first went on sale nearly 15 years ago and continues to be the store's most classic item.
Its moist texture and subtle sweetness make it an excellent choice. Each of these cookies is handmade, meaning no two faces are the same. You can also get two cookies for just JPY 190, and you can choose from sesame, walnut, or plain flavors. These are great choices for smaller souvenirs.
Opening Hours: 10:00-19:30
Holiday: Wednesday
Visit official webiste of Frere
Kagura
A local yet sophisticated Japanese cuisine
Enjoy local cuisine at a restaurant located in front of Akimiya Shrine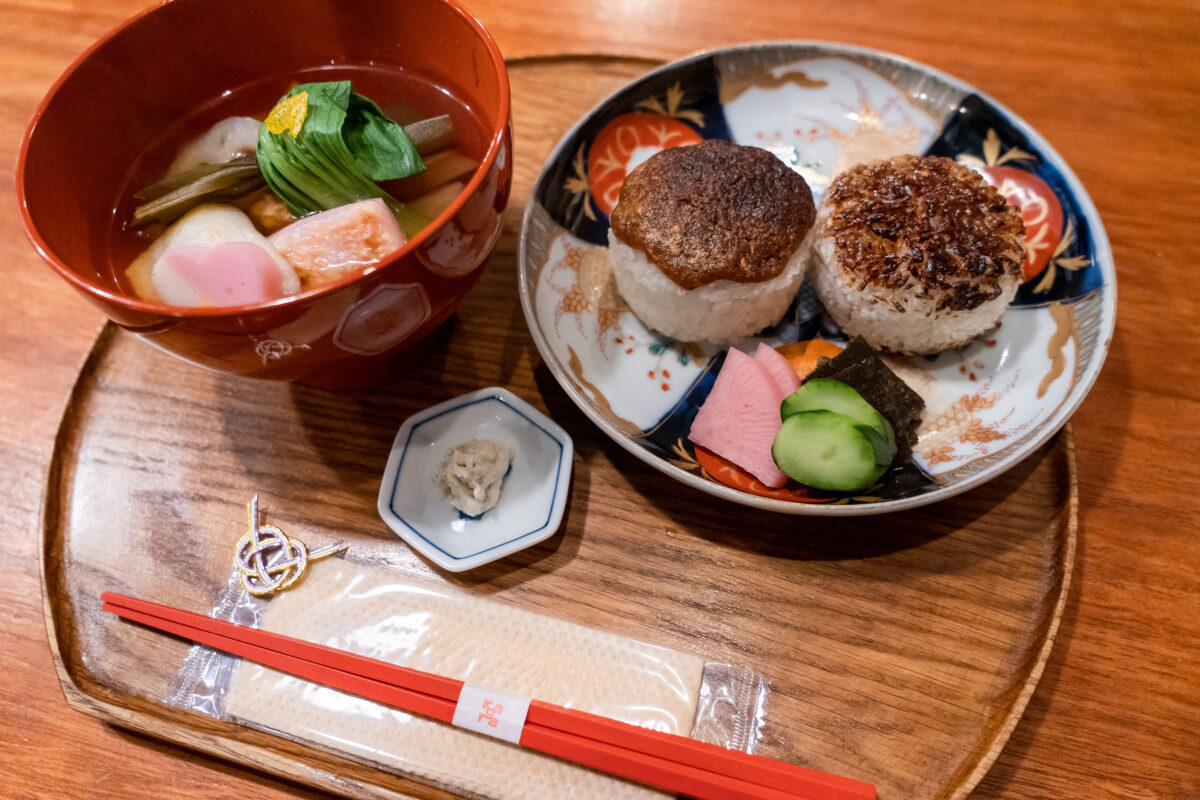 The restaurant's original "Shichifuku Miso" (Shichifuku refers to the seven lucky gods) is used in the roasted rice balls and Gohei mochi found on the menu here. Shichifuku Miso is also available as a souvenir, and we highly recommend it! Based on Shinshu (the old name for Nagano) Miso, Shichifuku Miso is made by using seven kinds of ingredients such as apples, walnuts, and goji berries. These ingredients give the miso its characteristic sweetness and deep flavor.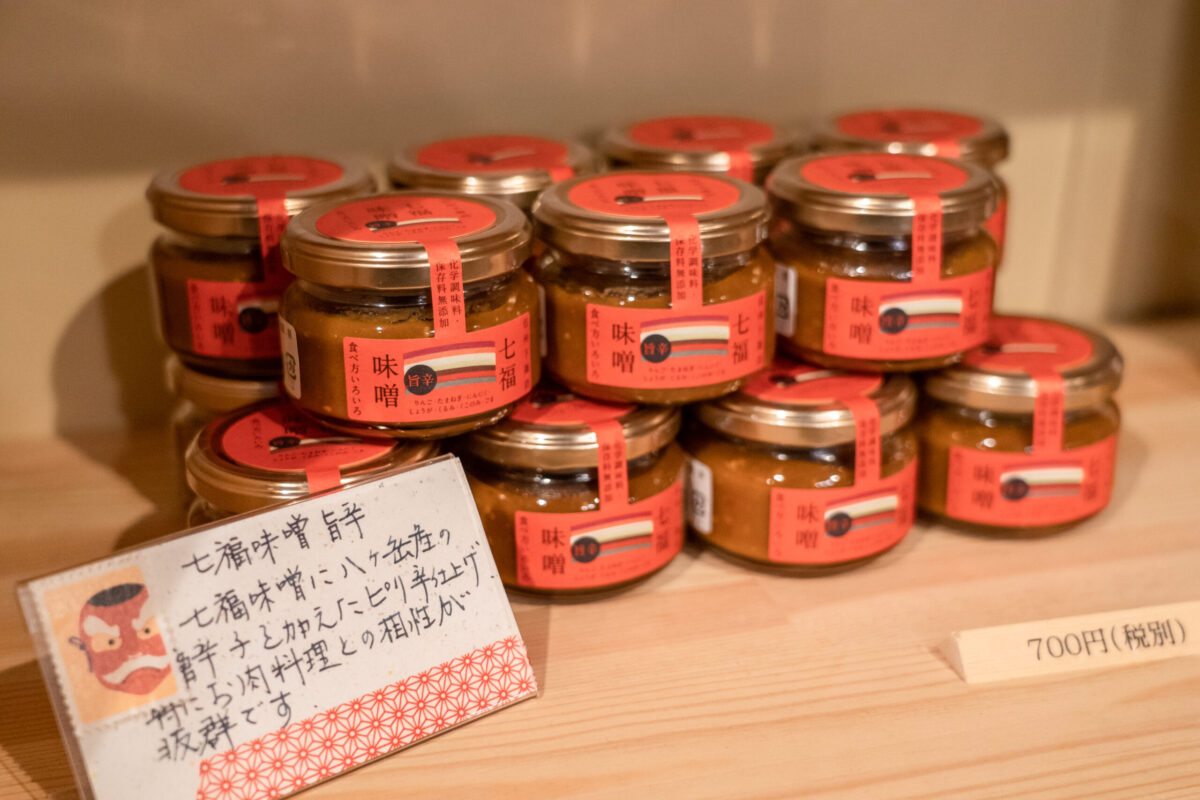 This miso is sold in the store, and many customers who come in for lunch or tea purchase it to bring home. Perfect with rice, this versatile miso can be used to pickle other food or as a dressing for vegetables, combined with Japanese, Western, or Chinese dishes.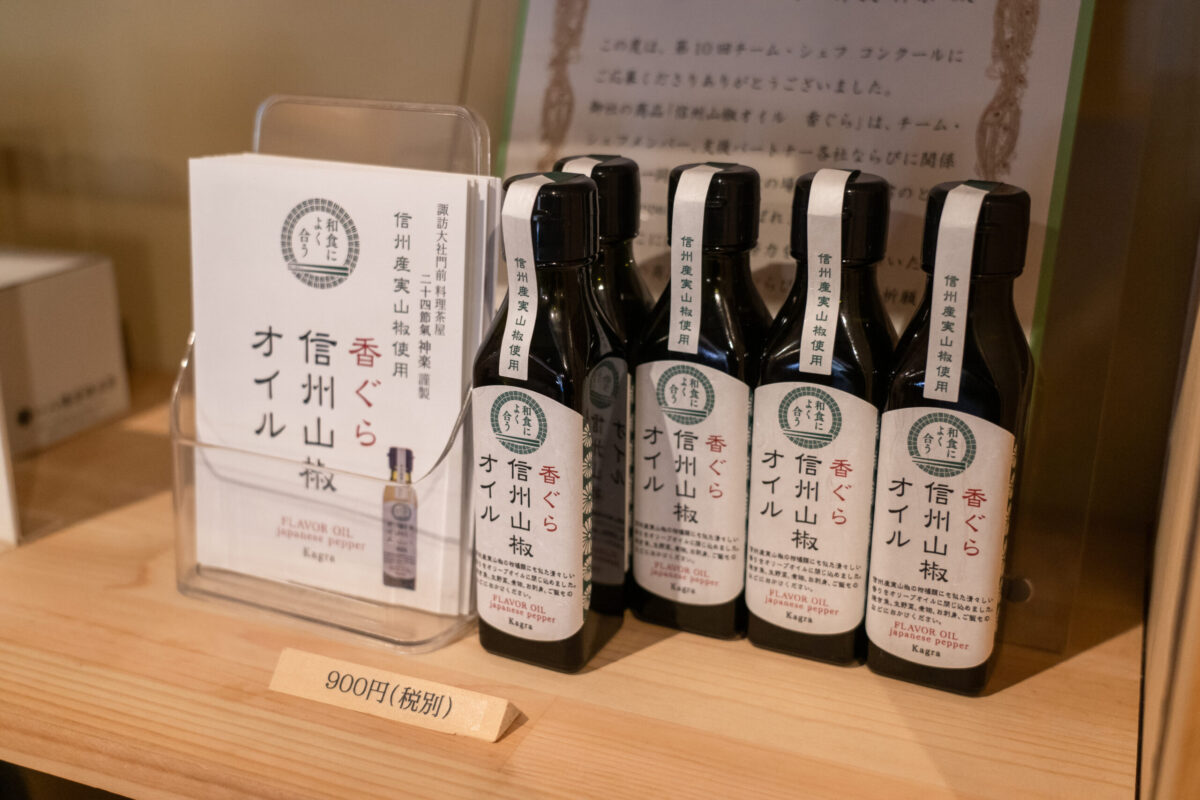 Other original products also occupy the shelves, such as "Shinshu Sansho Oil Kagura," which is made by soaking sansho peppers harvested from the Suwa area in olive oil. "Shichimi" (lit. "seven spices" and often used when eating soba or udon soup) that was developed with the help of Yawataya Isogoro, a spice shop located in Nagano City, is also available.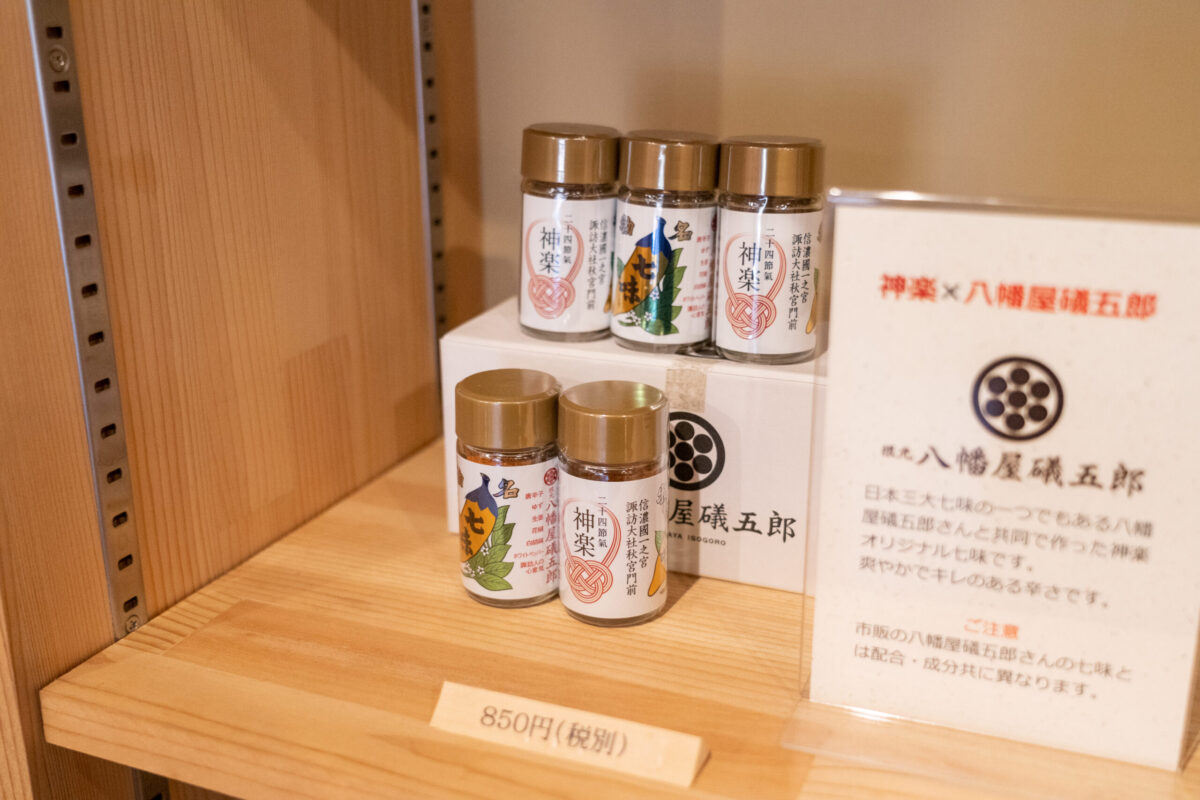 The owner Takei-san carefully selects each and every one of these wonderful products, for a delicious addition to your everyday cooking. Get some for yourself or a loved one.
Opening Hours: 11:00-14:30
Holidays: Wednesday, Thursday
Visit official website of Kagura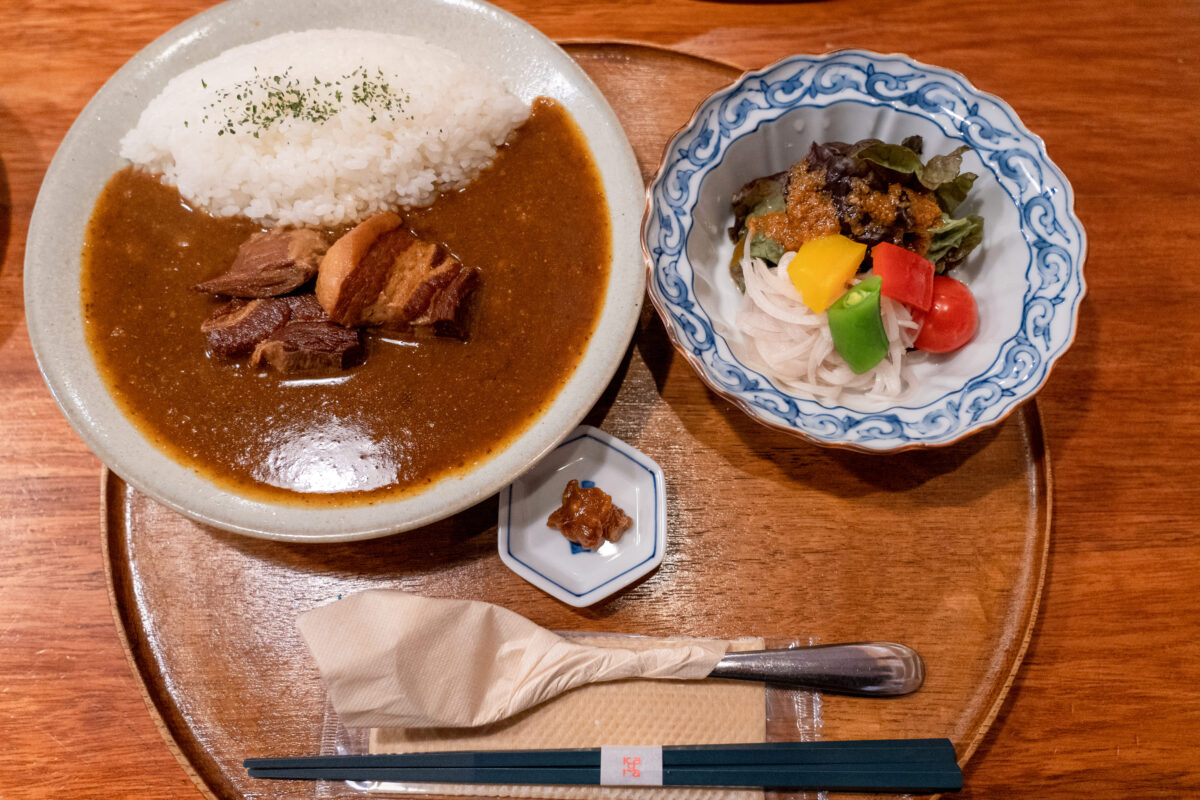 Tome Hachiman
Souvenir store in front of Akimiya
This souvenir shop boasts a stylish, Western-style exterior. The name "Tome Hachiman" is given by a priest, and is derived from a combination of Tomesha Shrine and Hachimangu Shrine. The god of the harvest is enshrined in Tomesha Shrine, and the large zelkova tree located in the parking lot is considered sacred. In ancient times, this tree was used to predict the climate based on its sprouting and the changing colors of its leaves.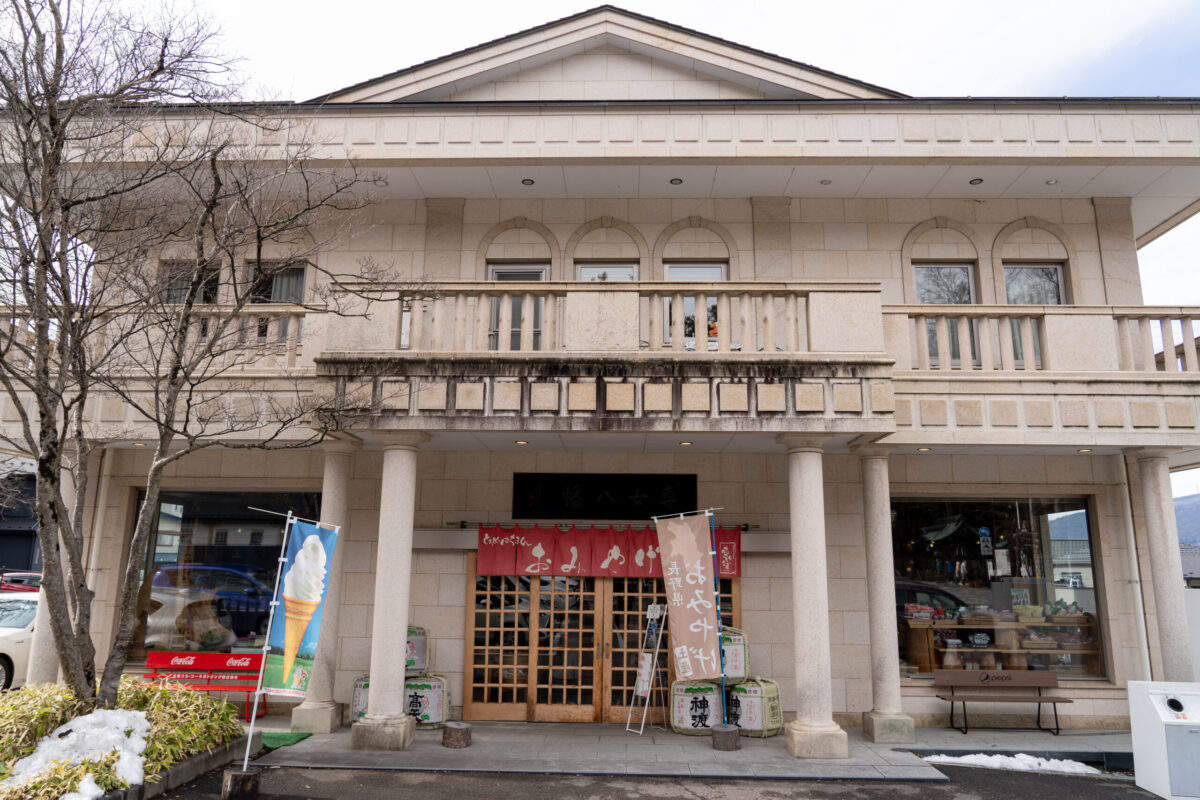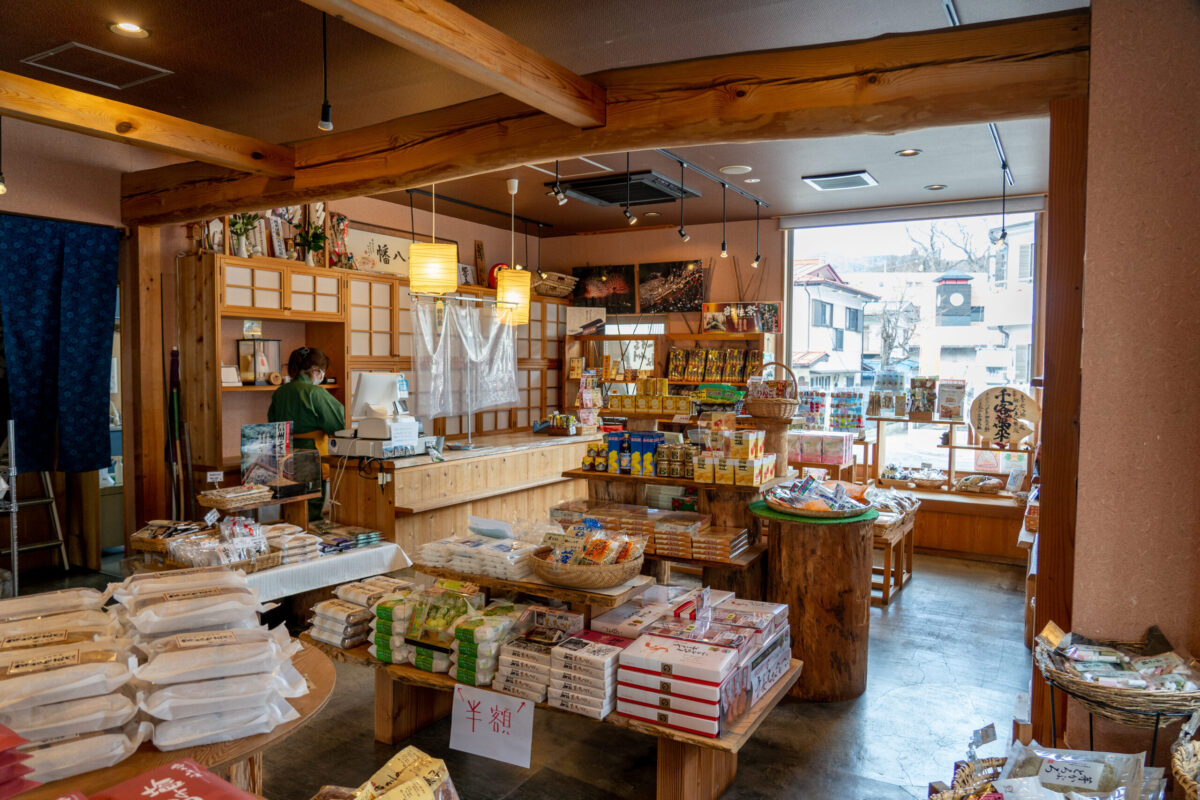 Special products like local sake, wine, miso and soba can be found within the shop, all making for perfect souvenirs. They also have a café corner where guests are free to bring their own food and drinks and rest.

Any of the sweet treats or juices you buy in the store can be enjoyed right then and there, making this store perfect for a quick break while you walk around the town.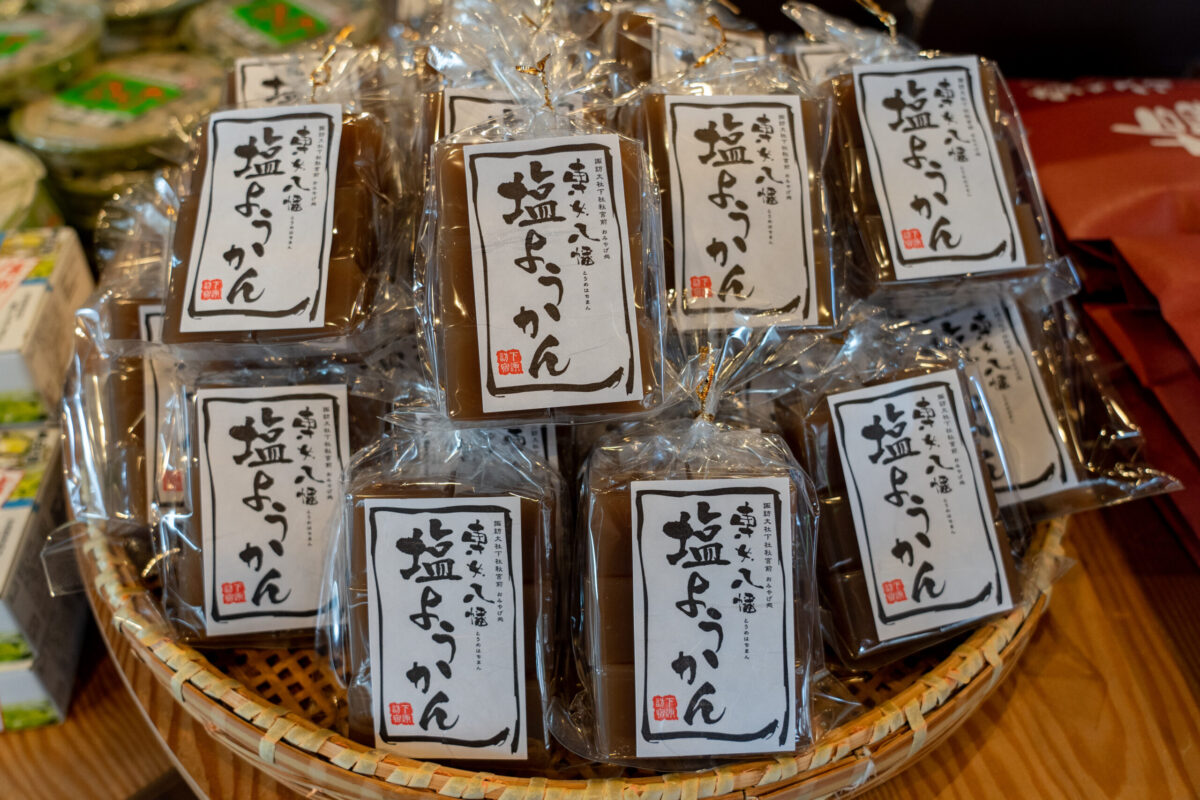 The most popular item here is the shioyokan (a sweet and salty
azuki bean jelly). Pick the one that you like best!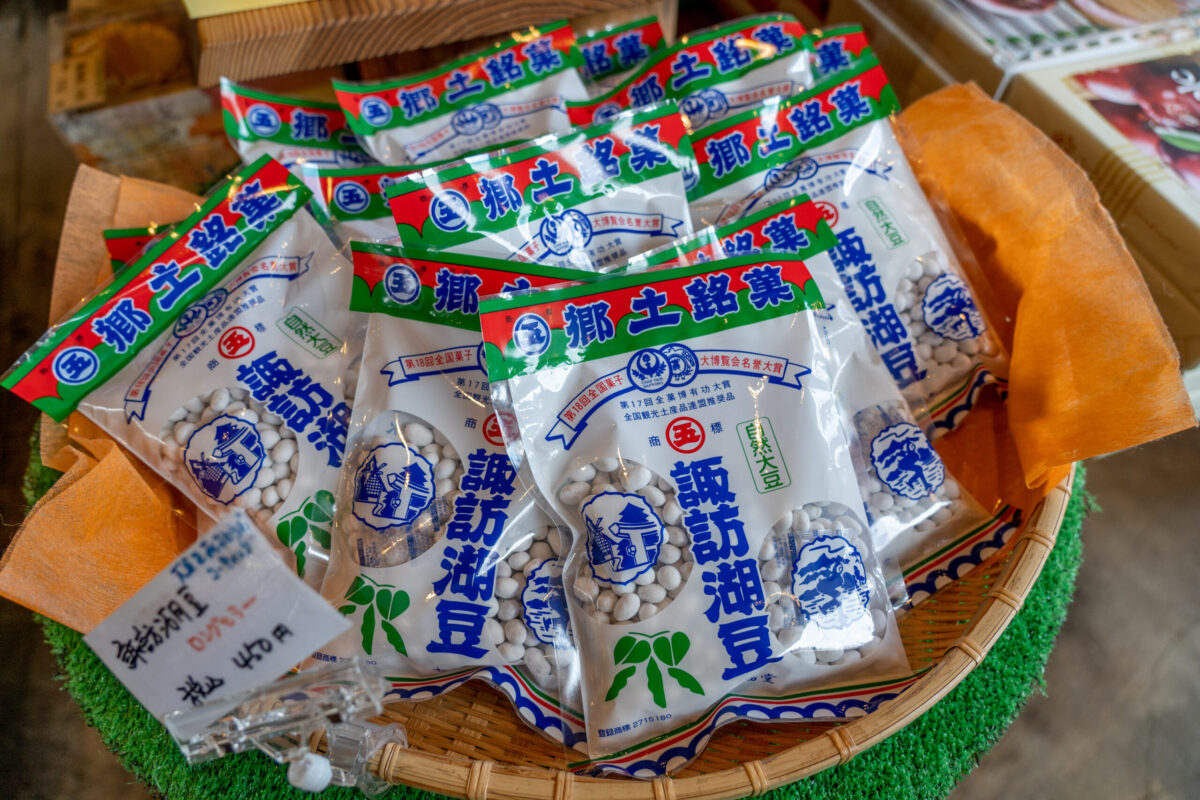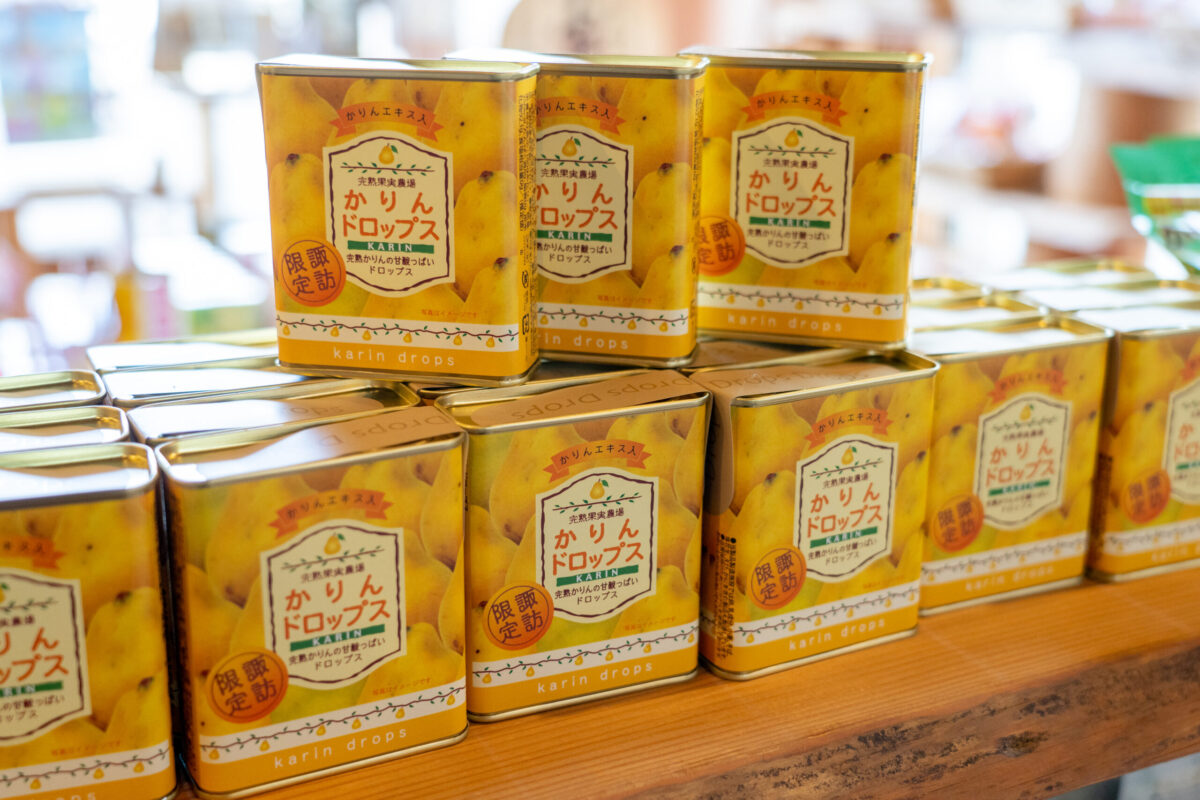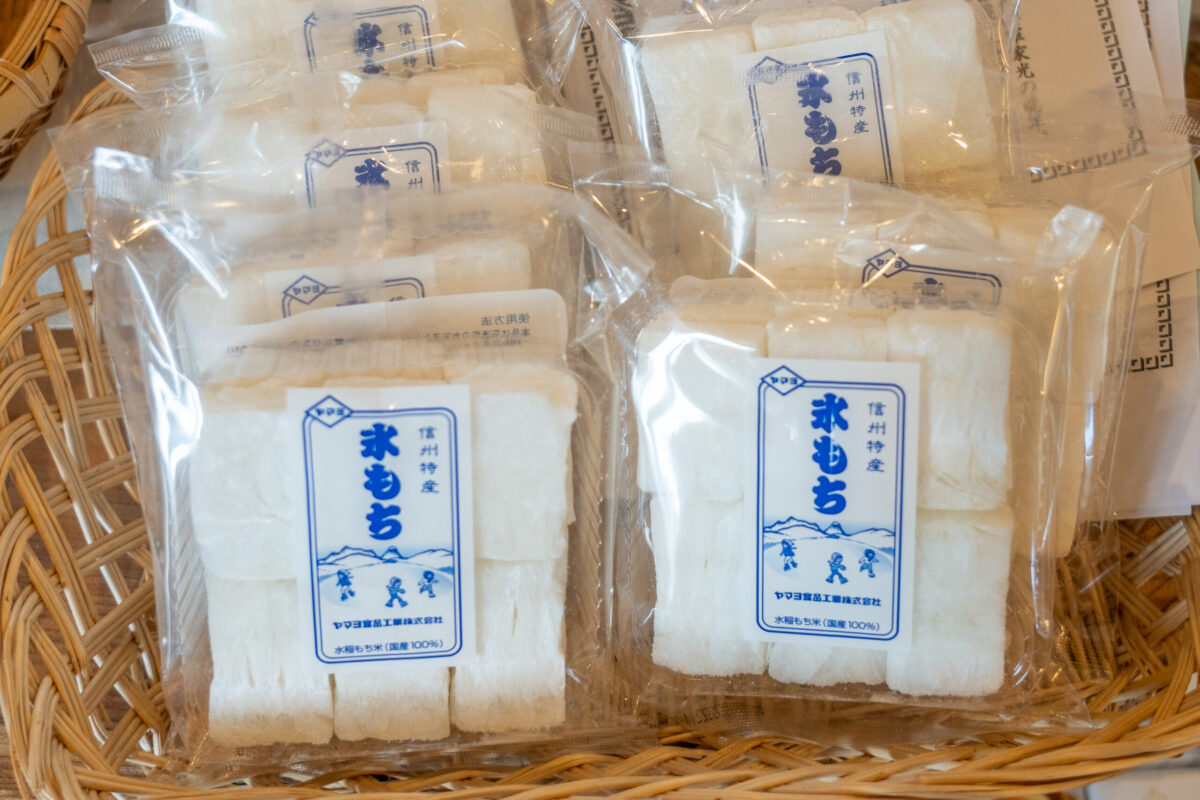 Common souvenirs from the Suwa region include soy bean covered in sugar, jams and candies made from quince, and shimidofu (frozen tofu). "Korimochi", which is made by soaking mochi in water and drying it in the cold of winter, is an exceptionally delicious and historical Japanese confection. It was even presented to the Shogunate in the Edo Period.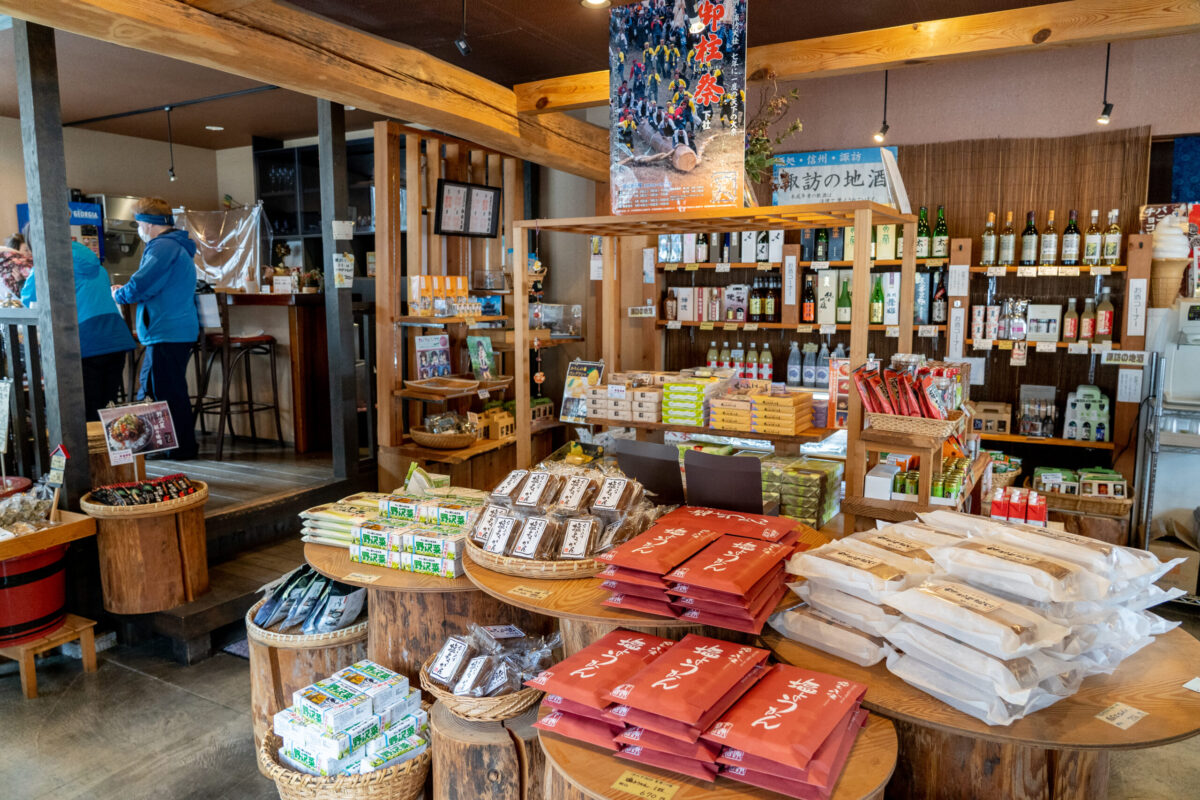 Additionally, a corner is set up where Onbashira-related goods are on display. Foods representative of Nagano like soba, apples, and nozawana (pickled vegetable) are all available. Guests who visit this shop will have no trouble finding some souvenirs.
Opening Hours: Everyday 9:00-17:00
Visit official website of Tomehachiman
Suwa Mikotsuru Brewery
An awarded sake brewery in town
This sake brewery boasts a history spanning all the way back to 1912, and in 2018 Mikotsuru was reestablished under new management. Here we'll introduce a shop directly managed by the brewery that can be found on Mitamachi Shopping Street.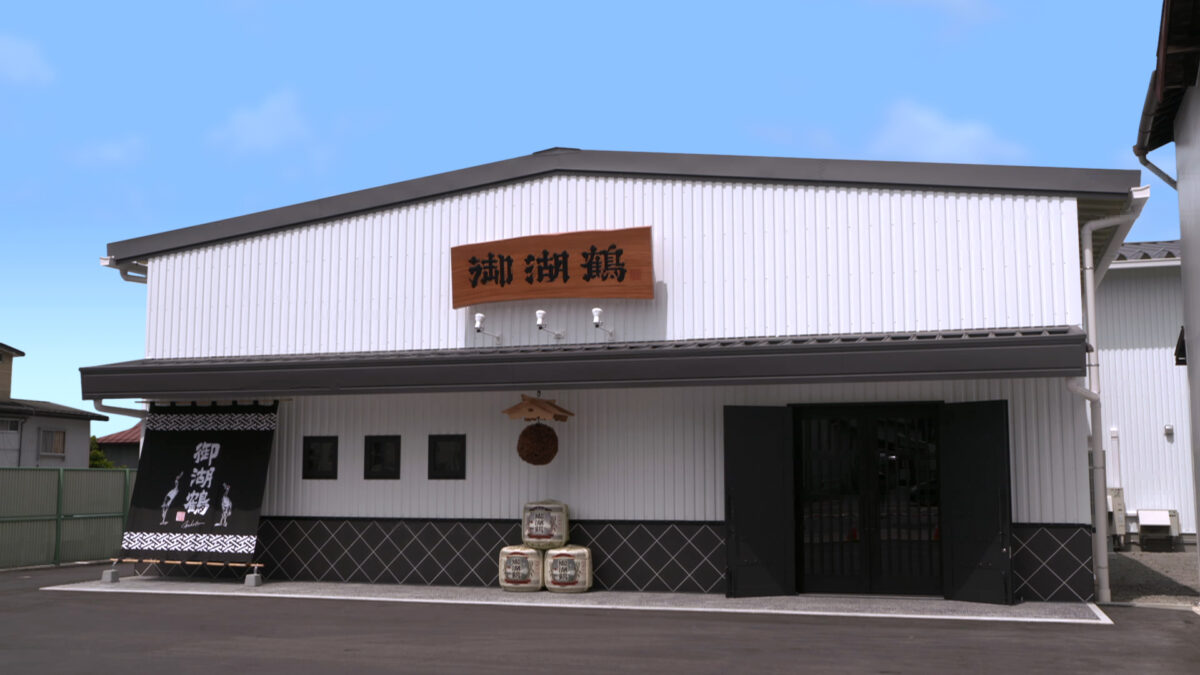 Mikotsuru is the only sake brewery in Shimosuwa, and the sake brewed here owes its high-quality flavor to the cool and clean waters of Shimosuwa. Mikotsuru's Junmai Daiginjo (a type of sake) received the Junmai Ginjo Division Prefectural Governer's Award as well as the highest Judge's Award at the 67th Nagano Prefecture Sake Festival held in September 2020. Other than selling sake, the store also offers a tasting corner and also sells other goods along with baked sweets, and ice cream.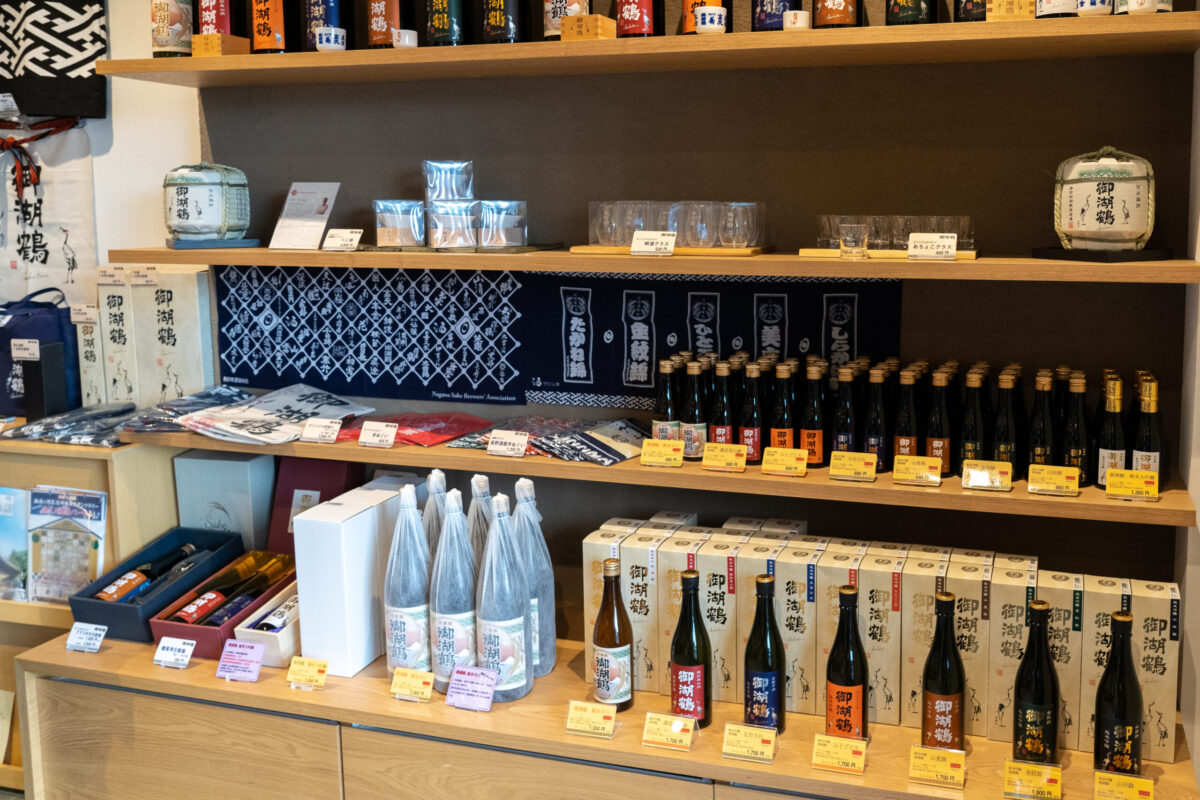 Similar to a winery, customers who visit the store can sample the sake here in the tasting corner while discussing the products with a sake professionals. Typically there are about seven types of recommended sake available.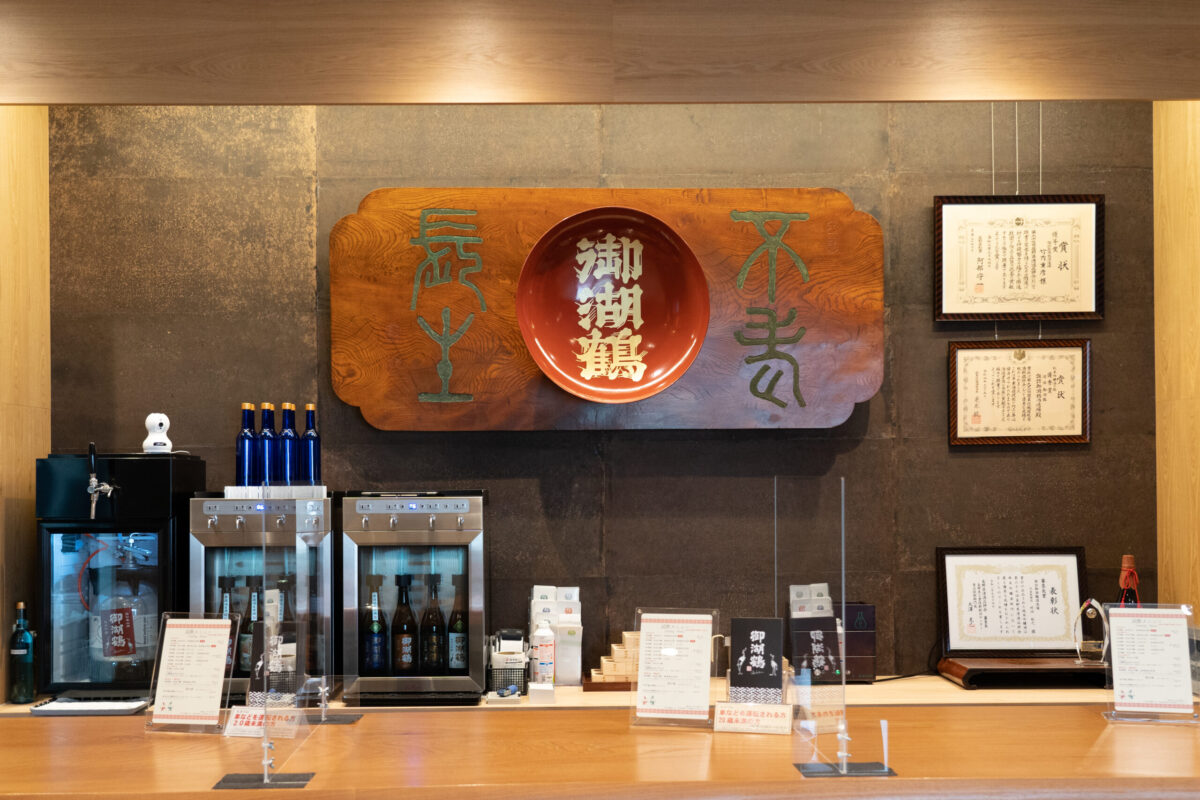 The area is equipped with a dedicated server (a type of tap for sake) that minimizes oxidation, meaning you'll always get that great, fresh taste. Guests will be able to enjoy their goods under the best conditions possible, and the glasses they offer are also carefully managed.
Most popular among the offerings here is the flight where you can choose three types of sake you want to taste and compare. The aroma, dryness, and other qualities of sake all vary, but the first thing you should focus on is a rice that suits your taste. Once you've done so, try to remember the color of the label. If you simply say, "I like the Mikotsuru Red", you will be doing the staff a great favor by making your order easy to understand.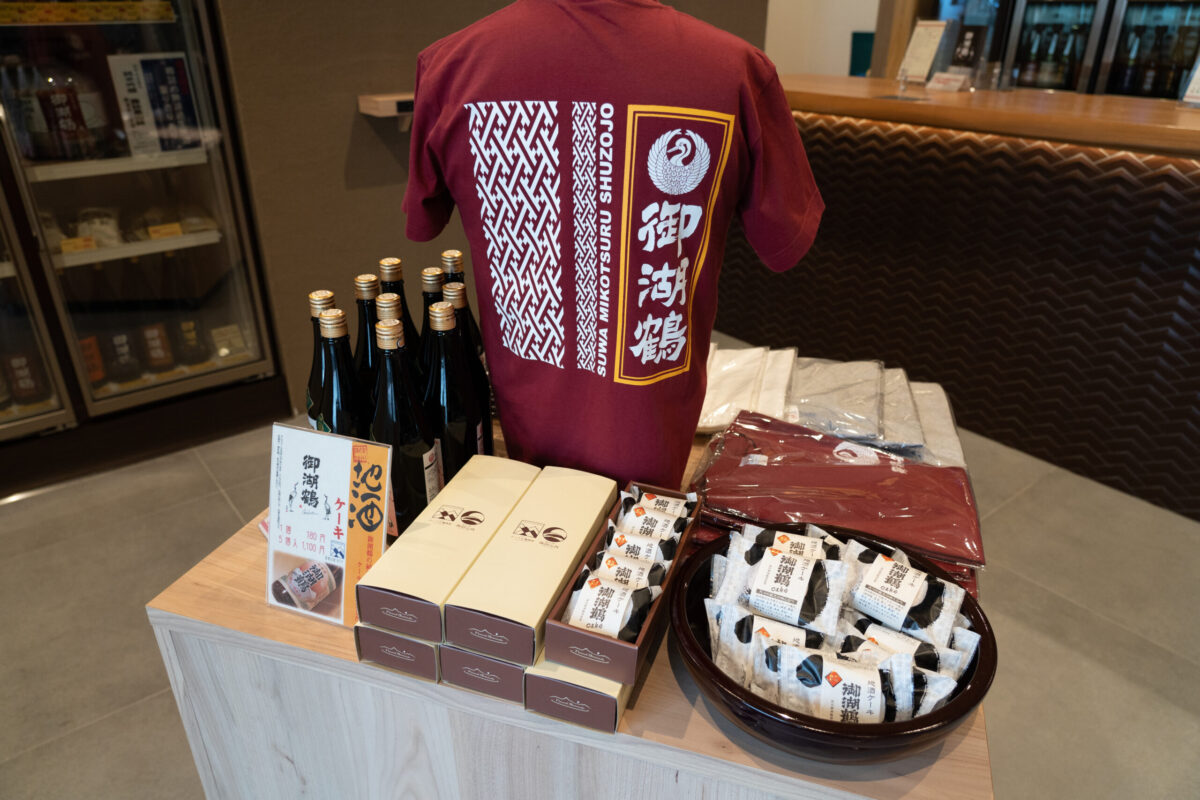 The shop is also planning to gradually introduce guided tours from now on.
According to Takeuchi-san, a sake craftsman, "sake is a luxury that makes people enjoy their life." Guests will be wanting to come back time and time again for this delicious experience based on the theme of "joyful sake." Make sure to give it a try!
Opening Hours: 10:00-16:30 *Tasting until 16:00
Holiday: Wednesday
Visit official website of Suwa Mikotsuru Brewery
Maruroku Motoyama River Fish Store
River fish from Lake Suwa and around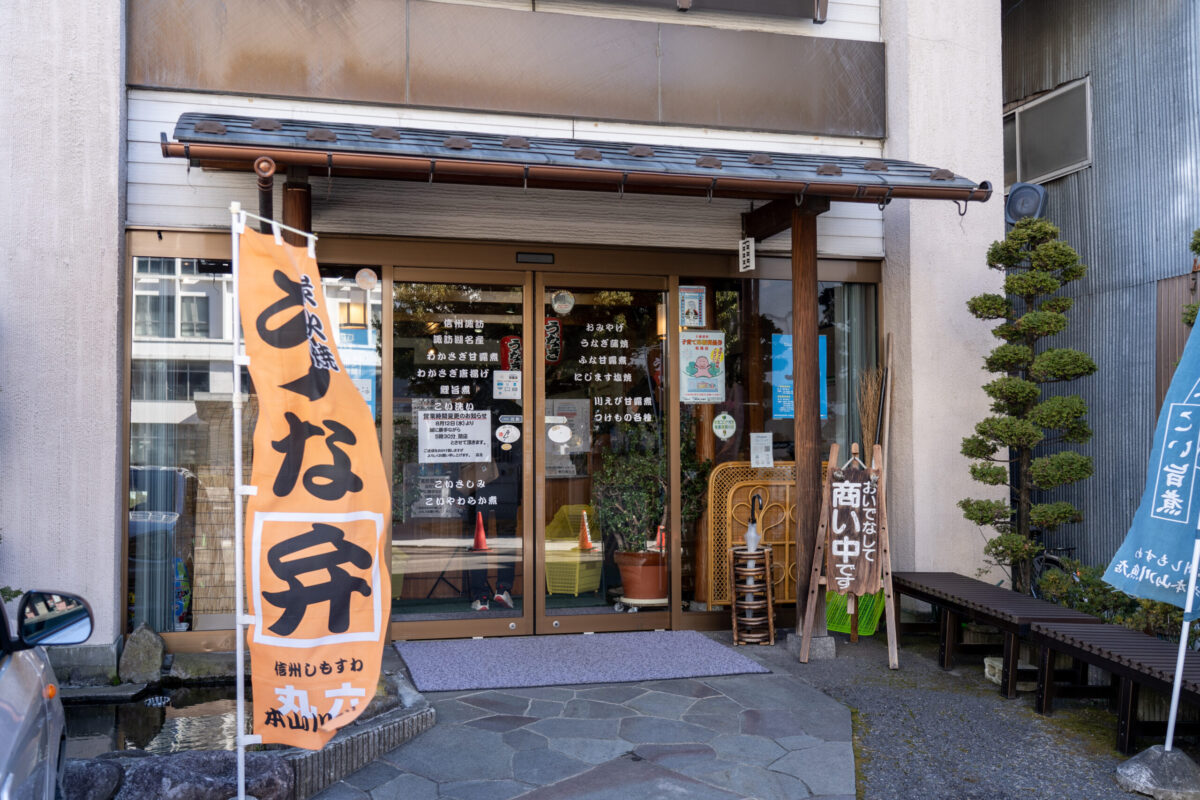 This freshwater fish store can be found right in front of Shimosuwa Station. The store specializes in the manufacture and sale of kanro-ni (sweetened boiled fish ) and other river fish. It also boasts a wide selection of souvenirs to choose from. Boiled carp that is cooked by boiling freshly caught fish has always been the store's most popular product! Other unusual offerings are also available, from popular river fish such as smelt, grilled unagi (freshwater eel), and rainbow trout to bee larvae and pupae.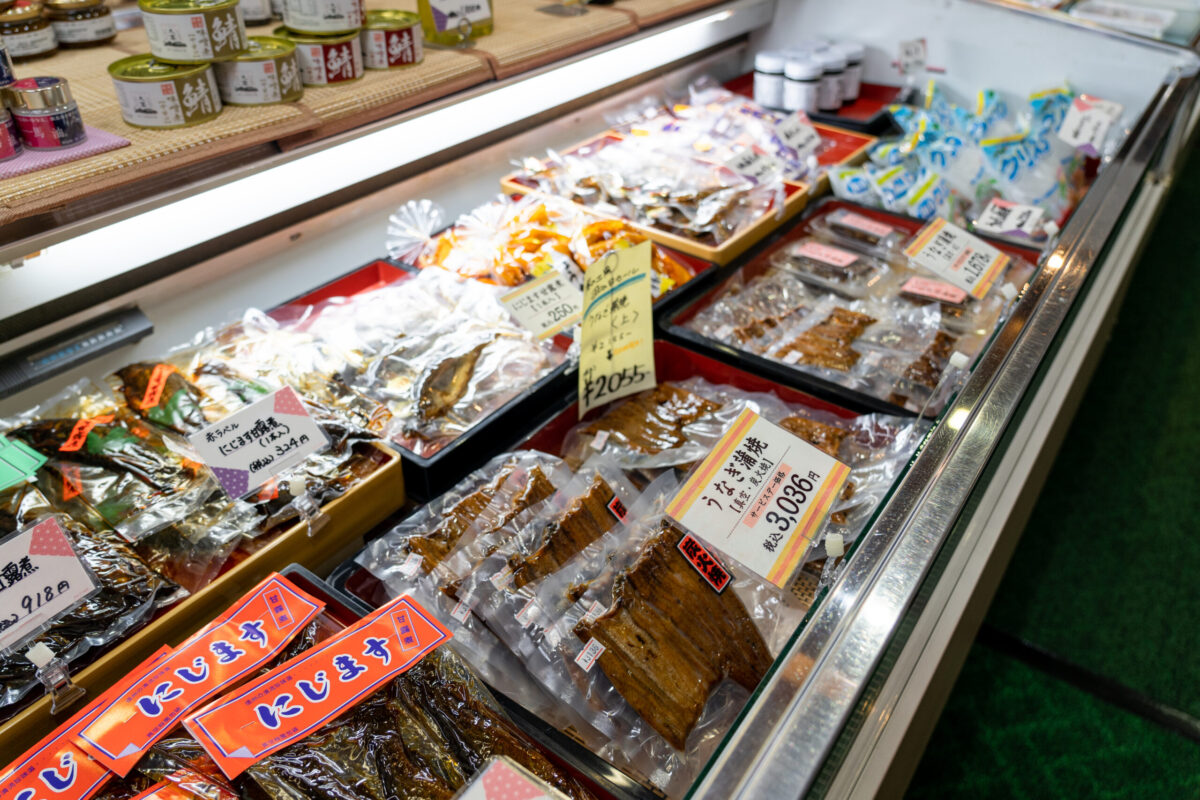 Guests who make a reservation can also purchase a special "unagi bento," or "freshwater eel lunch box." Enjoying your unagi bento while gazing out at Lake Suwa during a picnic lunch is just one way to savor this delicious meal. Packed unagi and other river fish make excellent souvenirs, too.
Guests who make a reservation can also purchase a special "unagi bento," or "freshwater eel lunch box." Enjoying your unagi bento while gazing out at Lake Suwa during a picnic lunch is just one way to savor this delicious meal. Packed unagi and other river fish make excellent souvenirs, too.
Opening Hours: 9:00-17:30
Holiday: Wednesday
Visit official website of Maruroku Motoyama River Fish Store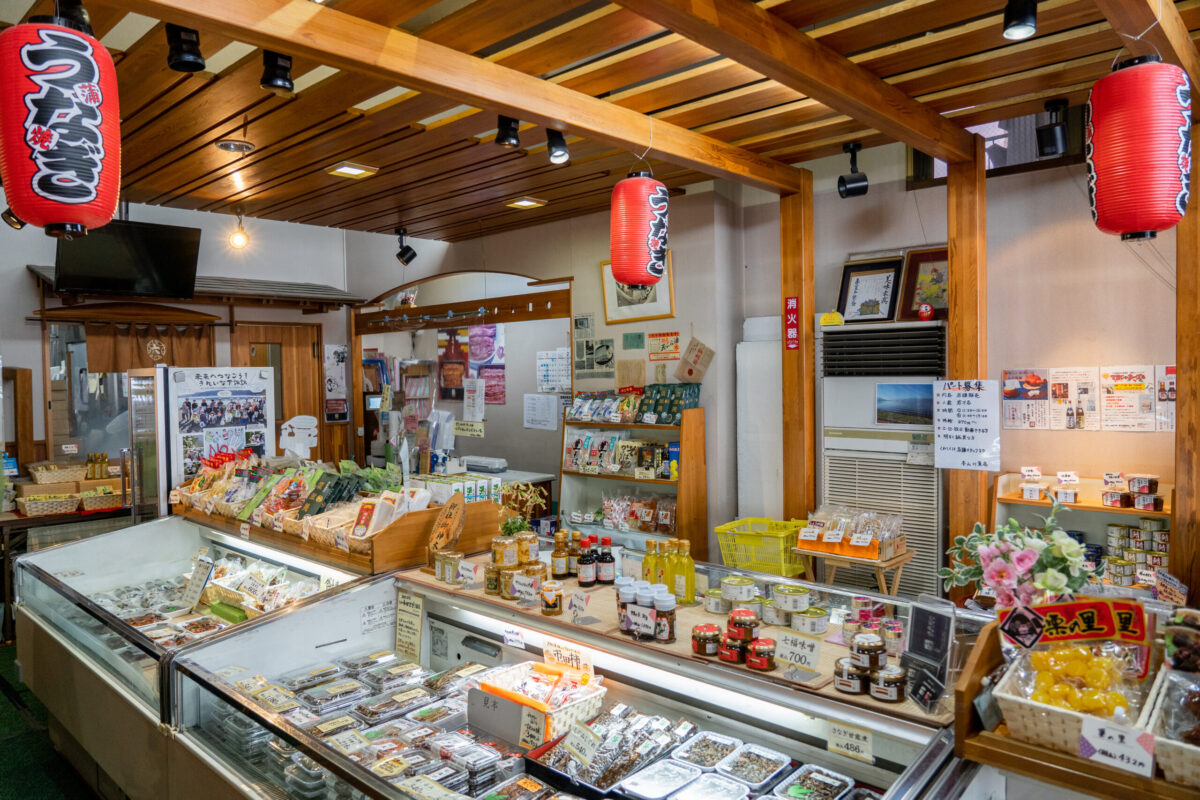 Futabaya
Liquor store with standing bar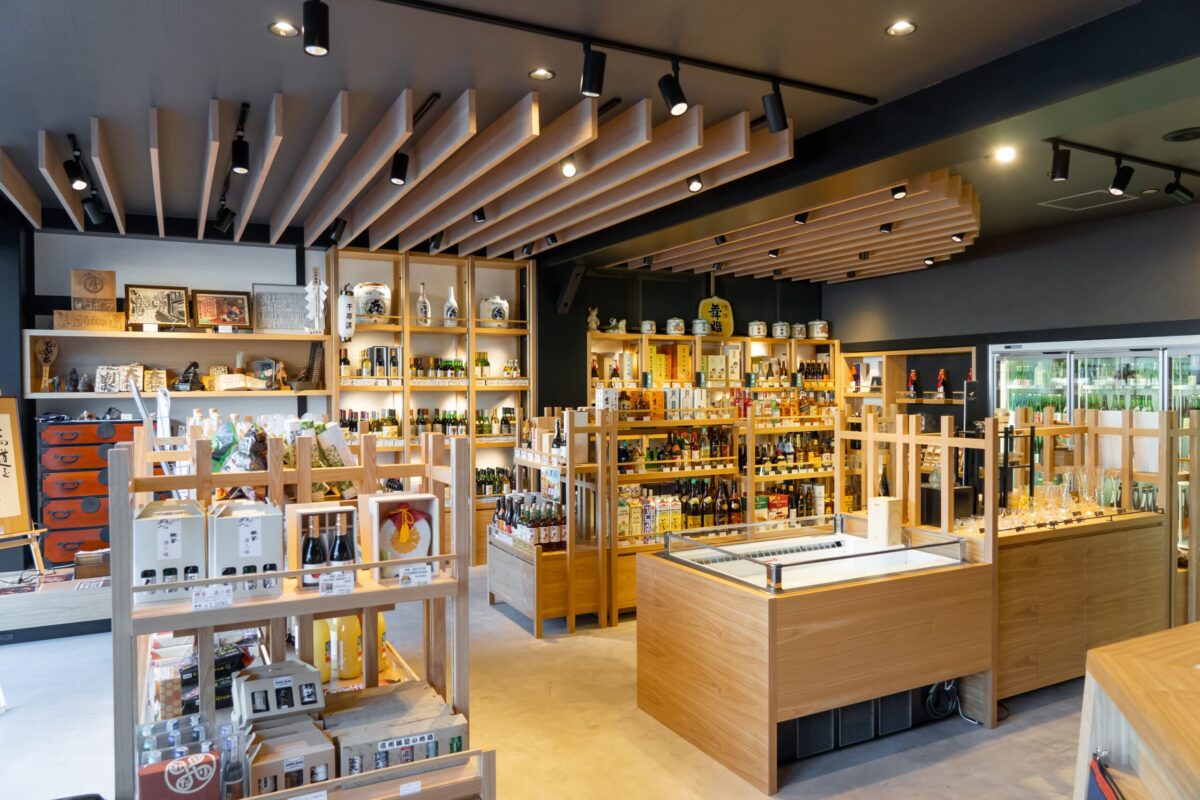 Futabaya is a long-running liquor store with more than 150 years of history. The interior of the store was renovated in August of 2020, and a wide selection of local sake and wine from Nagano are available. Shimosuwa's very own Mikotsuru brand of sake is also on sale here. The shop even has a kind of "history corner" where one can learn about the history of the store since the Edo Period.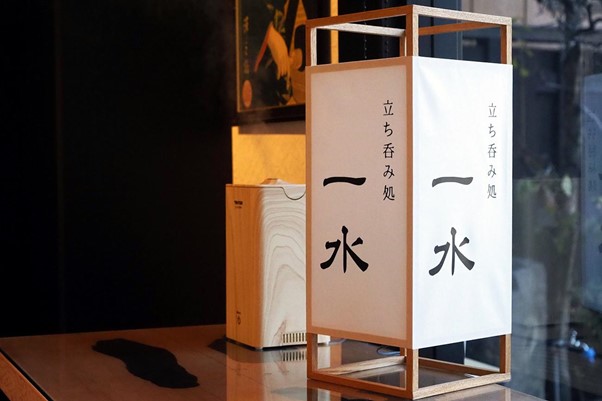 There is a standing bar where guests can sample the different types of alchohol for sale before choosing to purchase something. Picking up some snacks and enjoying the local sake is a great way to relax and think about the Shimosuwa of the past.
Opening Hours: 9:00-19:00 *Standing bar: 9:00-16:00
Holiday: Wednesday
Visit official website of Futabaya Liquor Store
Bakery Tarukawa
A traditional and unique bakery shop
Bakery Tarukawa stands near Suwa Taisha Akimiya Shrine at the entrance of the Mitamachi shopping street.
A lovely wooden sign marks its retro appearance. Every morning at 7 am Bakery Tarukawa opens its doors to the many adoring locals who often stop at this bakery before going to work or school
"I hope everyone can experience the joy of eating delicious bread." These are the words of owner Nobuhito Tarukawa, who bakes nearly 50 different kinds of breads every day. The bread is also popular for its reasonable prices.
Ever since the store's establishment, the most popular item has been its milk bread with all the nostalgic flavors of Nagano. This bread is characterized by its soft, fluffy dough and a generous amount of cream filling. Other bread-based items are also on the menu, like "gapao bread" and "tuna chikuwa(Japanese fish cake) donuts", a dish whose taste cannot be predicted by its appearance.
Hint: come by around 10 am is when the largest variety of breads are available!
A special menu item is called "Manji pan" named after the town's famous Manji no Sekibutsu stone Buddha. The shop has been baking these popular treats since 1996. Bakery Tarukawa is the only shop making this bread.
The bread's unique shape remains faithful to Manji no Sekibutsu's characteristics and there's also something charming about the expressionless face seared into the bread.

It might even bring you a bit of luck if you pick it up after visiting the statue!

Opening Hours: Mon.-Fri 7:00-17:00, Sat. 7:00-12:00
Holiday: Saturday afternoon, Sunday and public holidays
pain moji
A bakery of simple flavors and a nutritious quality
Pain moji is located just to the west of Harumiya Shrine, just before Ukishima. You can't visit this location by car, so you'll have to enjoy a stroll to the bakery.

For the shop, find the small, black signboard on which"pain moji" is handwritten.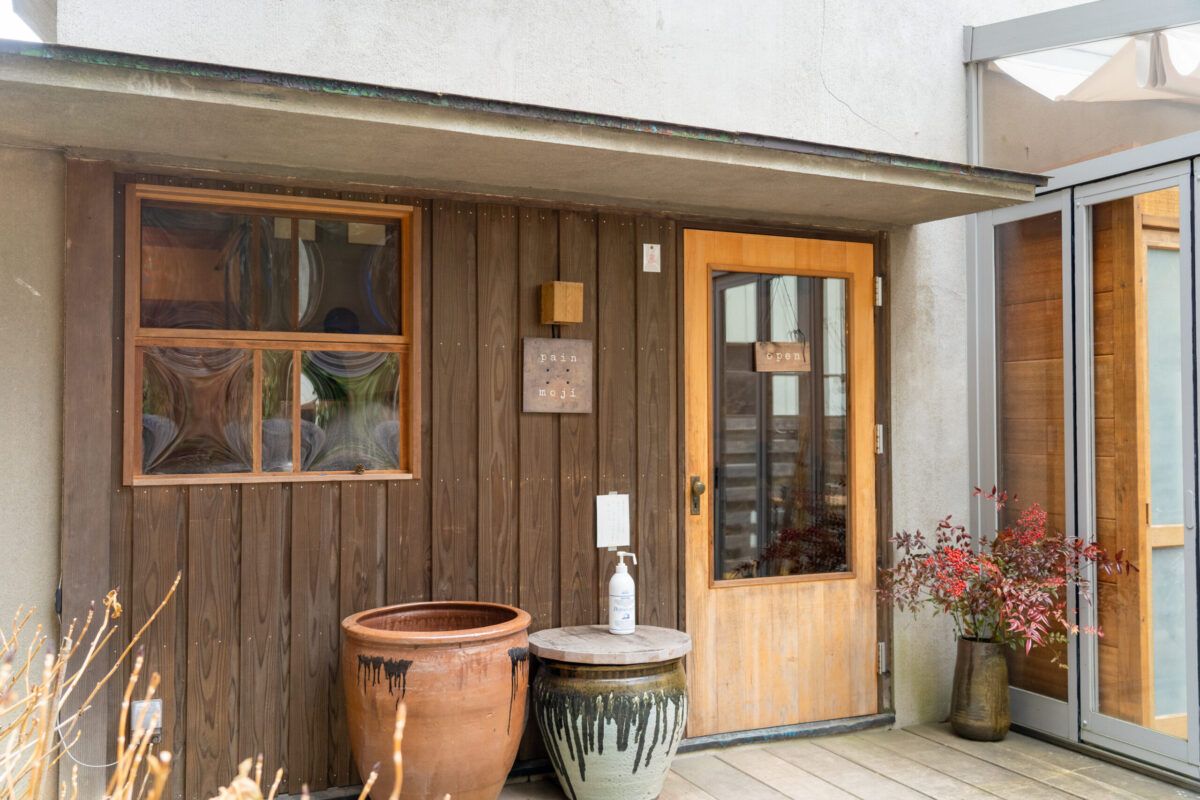 A small display case greets visitors who climb the stairs and open the shop's door. Their softly colored breads such as chocolate bread made with cacao, reasonably priced 'table bread' (a type of roll), and their more popular offerings are all on display.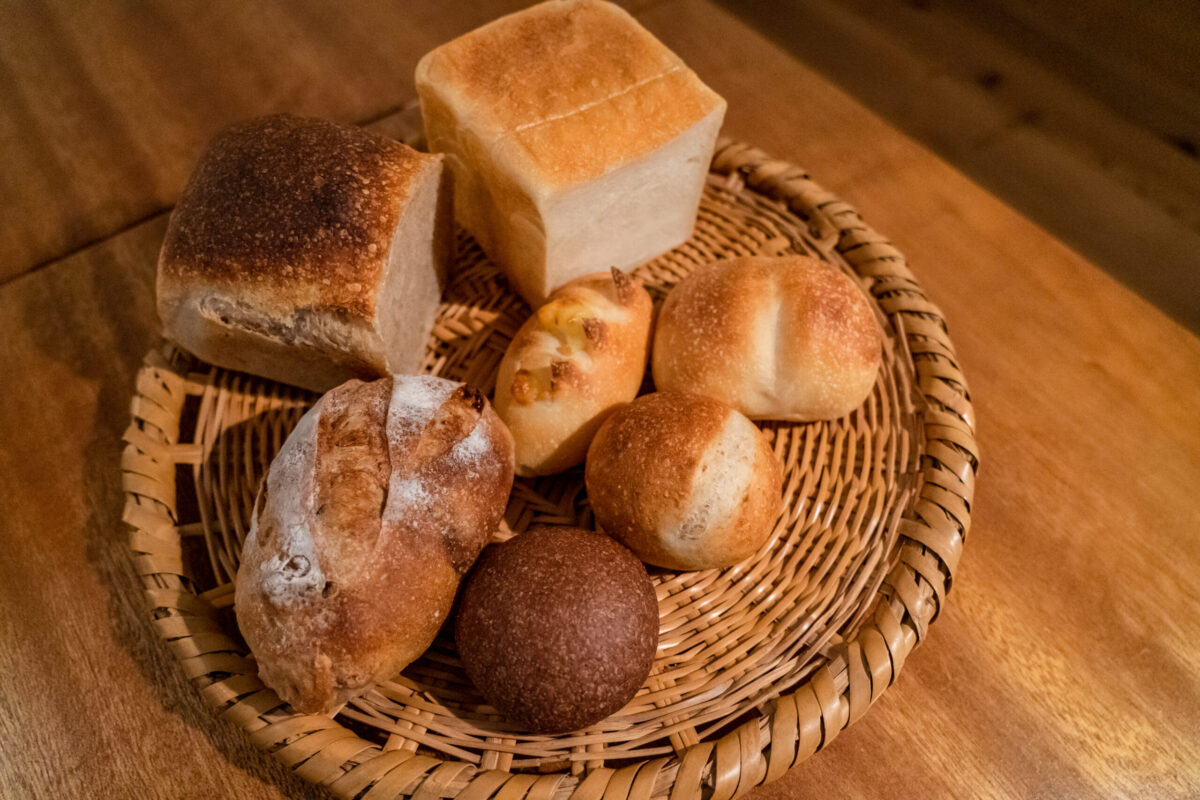 While the baking time for the breads changes from day to day, products are typically available from around 11:00 a.m. Fujiwara-san, the store's owner, says "While the breads are delicious when freshly baked, they become even more flavorful if left to sit for a day or two." Even if you can't enjoy the bread the second you buy it, it will still taste great as toast after being stored in the fridge or even at room temperature. In fact, toasting it will give it a crispy outer texture with a soft inside, and the rich aroma of wheat only grows stronger.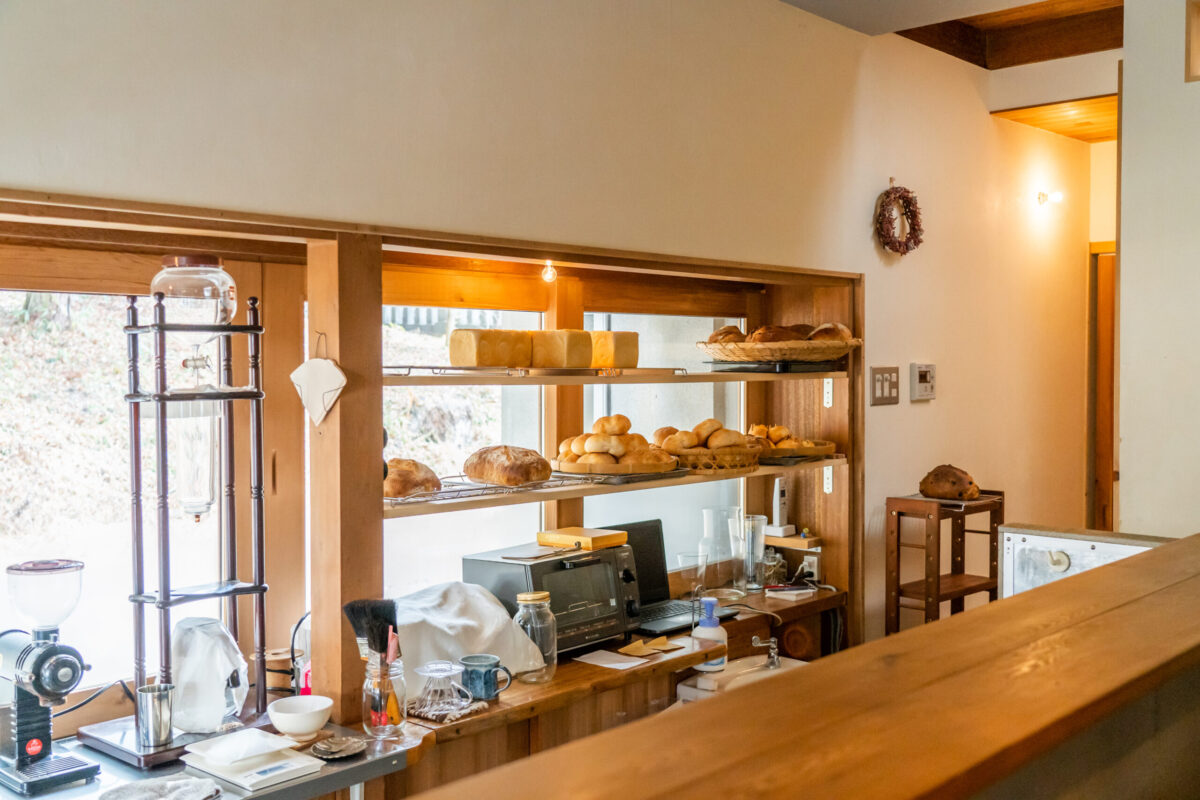 Most of the bread here is made without oil, and only the finest of domestically produced wheats are chosen for use. Fujiwara-san has also taken up farming on his own, and he has just started to use homemade wholewheat flour in his creations. Simple flavors and a nutritious quality define the delicious baked goods here.
Fujiwara-san describes the greenery and flowing river found near pain moji as the perfect setting for opening a bakery. Coming across this location was the main reason Fujiwara-san decided to move to Shimosuwa. Natural light filters into the store and gives off a calm atmosphere when coupled with the wooden white walls.
While eating in or enjoying the store as a café is currently unavailable, Harumiya Shrine, Manji no Sekibutsu, and Lake Suwa are just a short walk away. What better way to enjoy the sights of Shimosuwa than with some delicious bread?

Opening Hour: Tuesday and Saturday from 10:00-18:00
(information current as of January 2021)
Conclusion:
Be sure to pick up some exquisite souvenirs unique to Shimosuwa! We hope you can enjoy your time at home with many of Shimosuwa's delicious foods.